This guide explains how to use the Mullvad VPN app on Android devices.
Note: Our Android app is currently in beta and does not have all the features of our desktop app.
If you haven't installed the Mullvad VPN app yet then see the guide Install Mullvad app on Android.
What this guide covers
Basic use
Log in
Enter your Mullvad account number, then tap the green login icon (➜).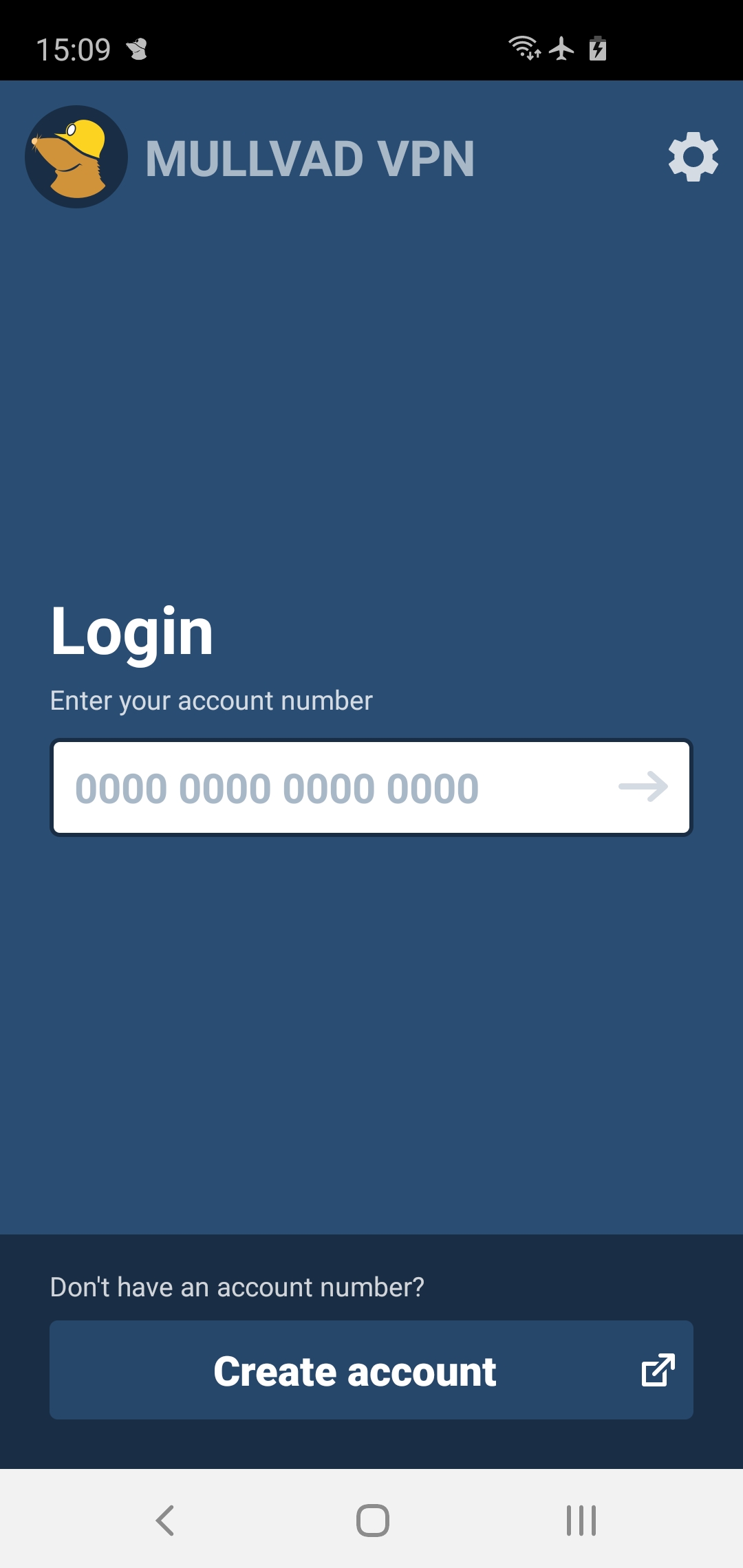 If you don't have an account, tap on Create account to generate an account number. Make sure to write it down for safekeeping. Tap on Buy credit to open our website where you can purchase time. If you have a voucher code then you can tap on Redeem voucher.
Connection screen
Once logged in, you will see the status of your connection on the app's connection screen. When you are disconnected, the top bar of the app will be red and "Unsecured connection" will be displayed on the connection screen.
Verify the WireGuard key
Before you connect you can verify that your WireGuard key is valid.
Tap on the gear icon in the upper right corner.
Tap on Advanced.
Tap on WireGuard key.
Tap on Verify key. It should say "Key is valid". If not then tap on Regenerate key.
Note: If you are unable to verify the key then make sure that you are disconnected from Mullvad and tap Regenerate key while you are connected to a different Wi-Fi or mobile network.
If the app states that you have Too many WireGuard keys then make sure that you are disconnected from Mullvad and tap on Manage keys to open our website. There you can remove a key by tapping on the trash can icon on the right side of a key.
Connect and approve the connection request
To connect, tap Secure my connection.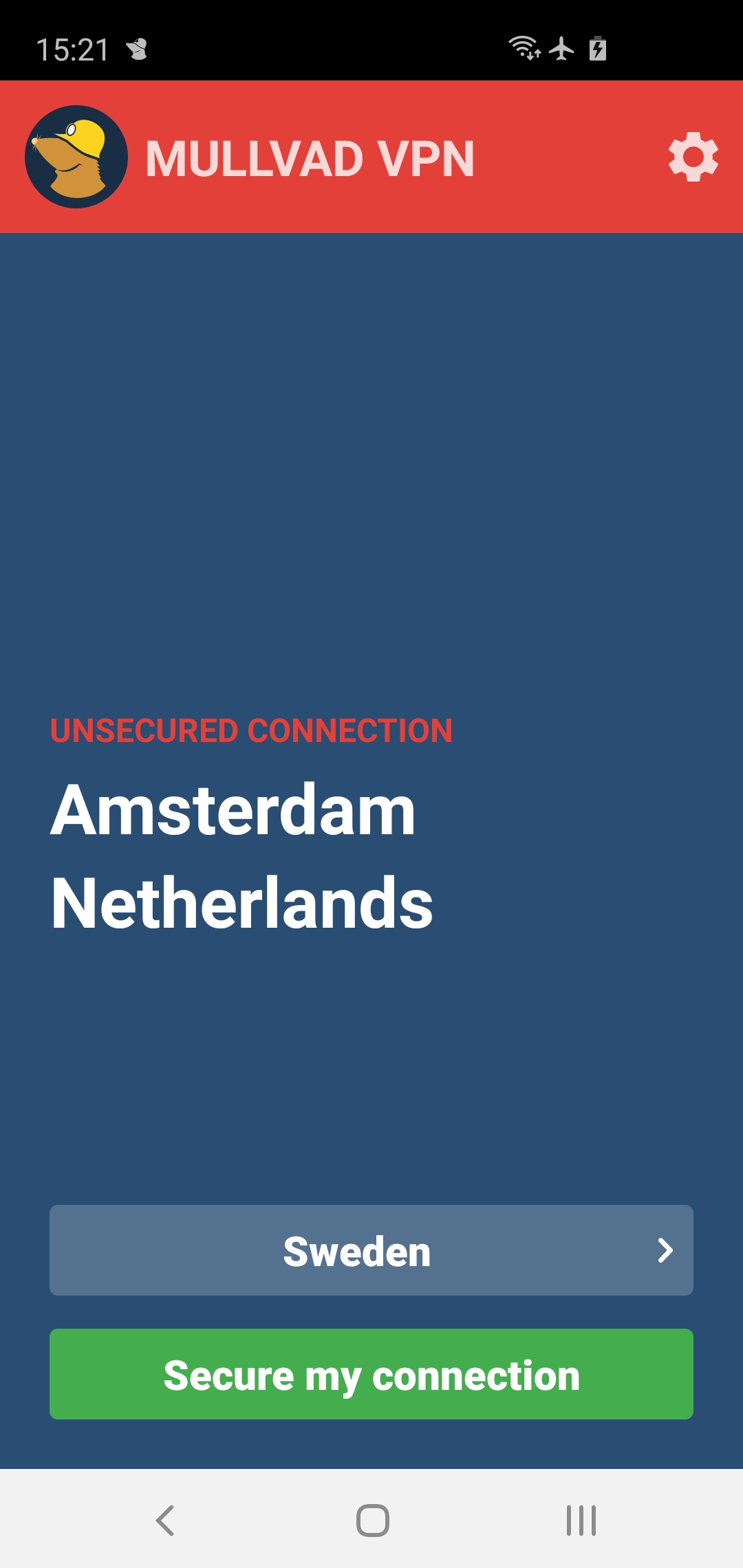 The first time after you install the app, it will ask for your permission to set up a VPN connection on your device.
Tap OK.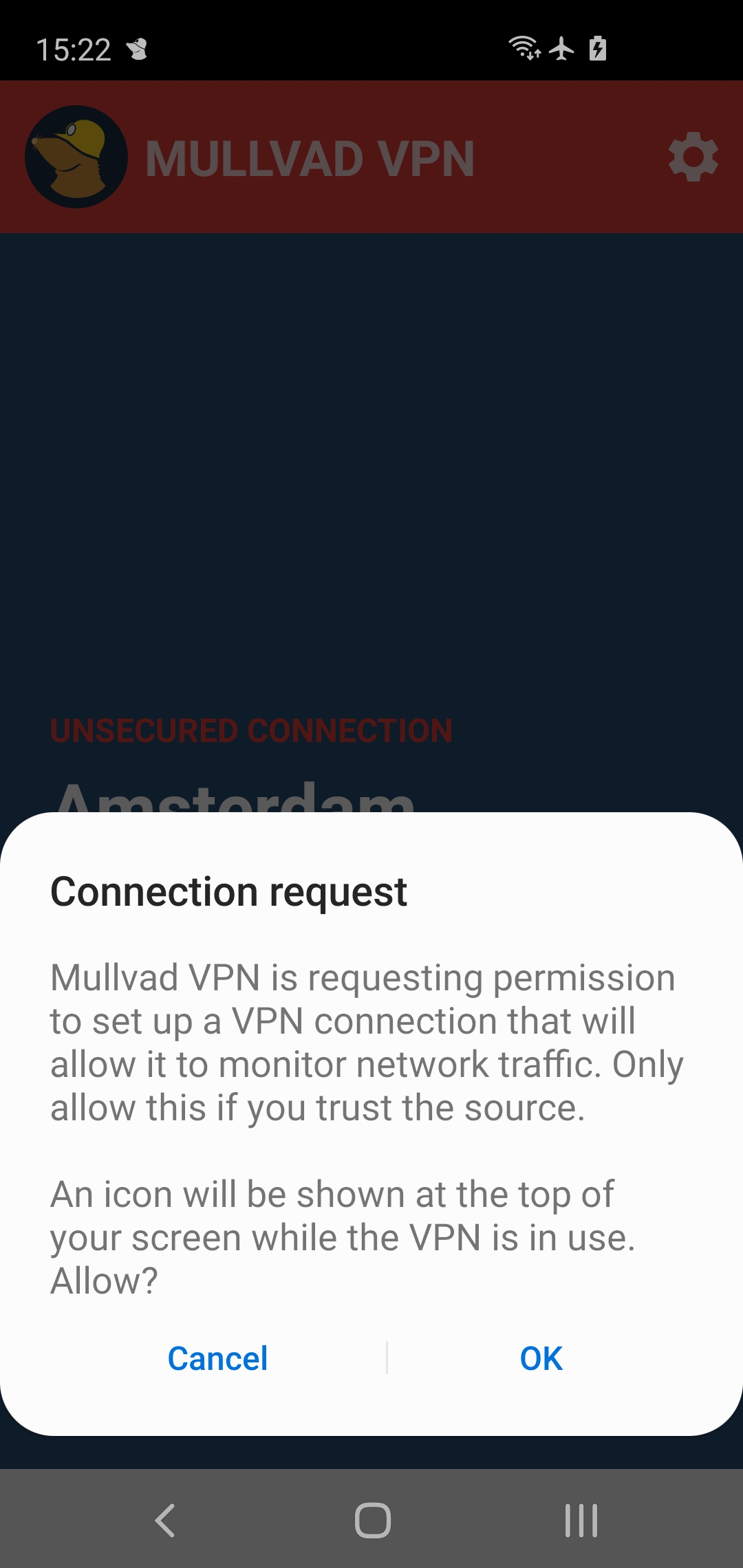 Once you are connected, the top bar of the app will be green, a VPN icon will display in the top notification bar of your device, and "Secure connection" will be displayed on the connection screen.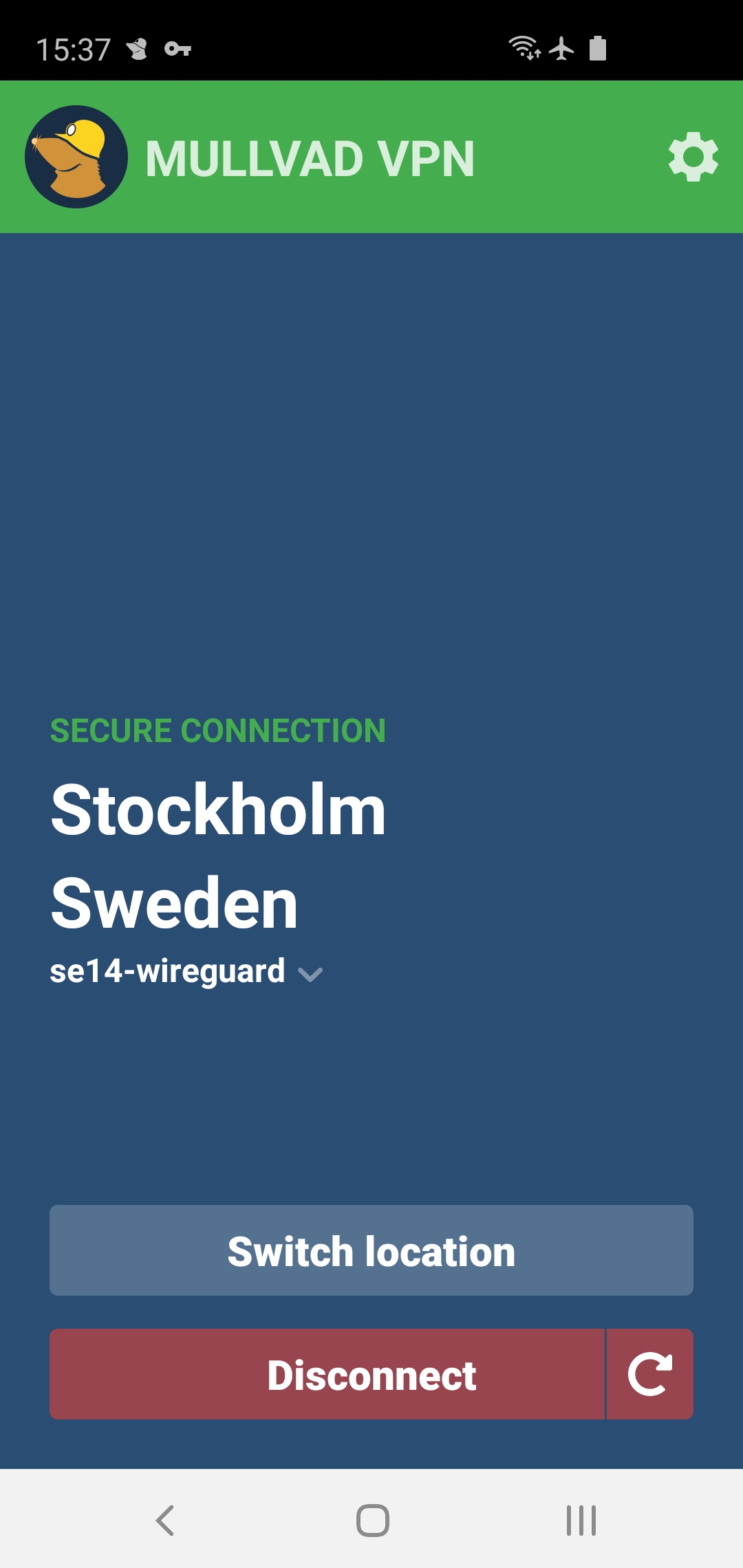 By default, the app will initially connect to a server in Sweden to increase the likelihood of a fast and stable connection. If you choose a different location, the app will remember your latest selection for the next time you start the app.
Switch location
To choose a different server, tap the Switch location button.
Scroll and tap the country that you prefer and the app will reconnect automatically.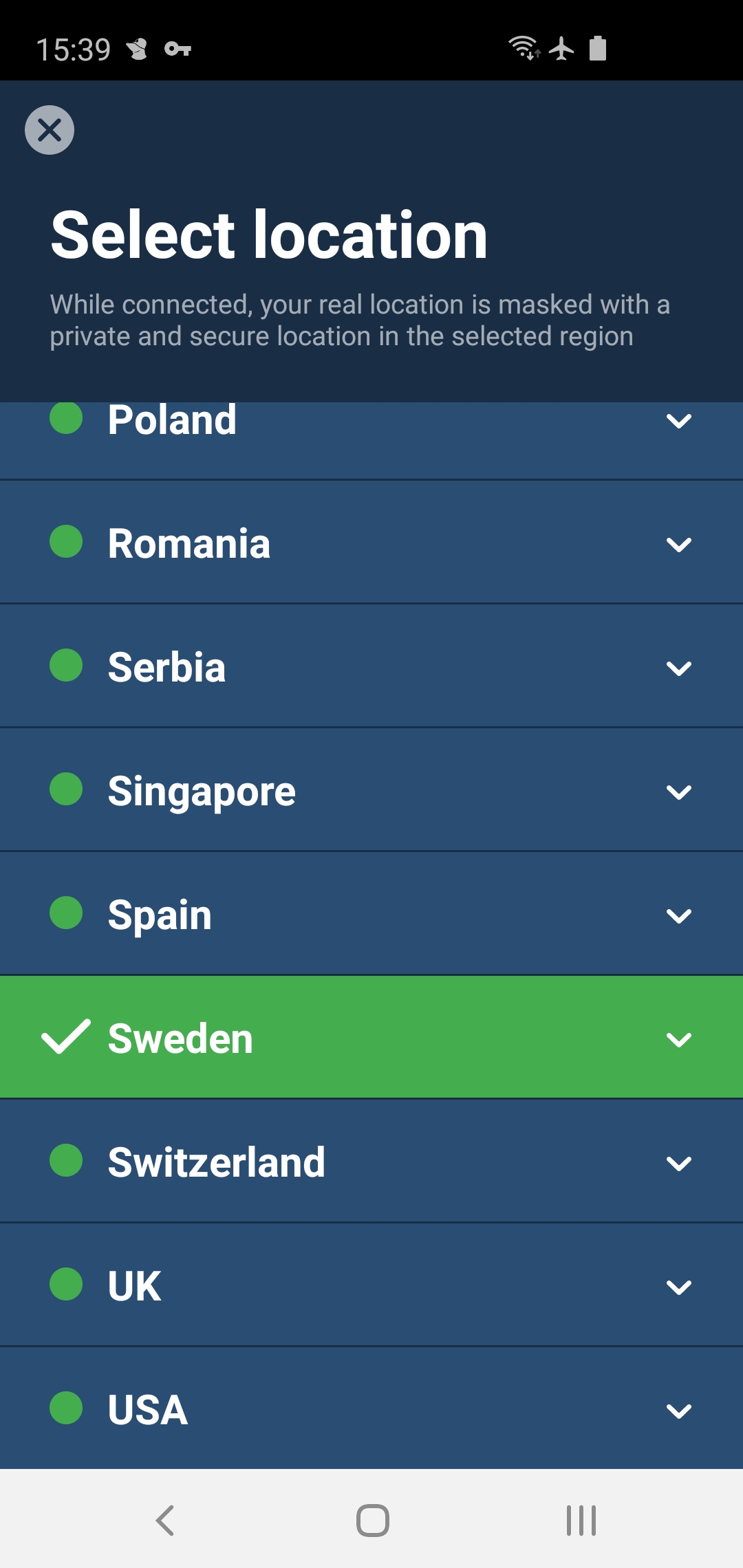 Tapping on the down arrow to the right of a location will reveal cities and specific servers that you can choose to connect to.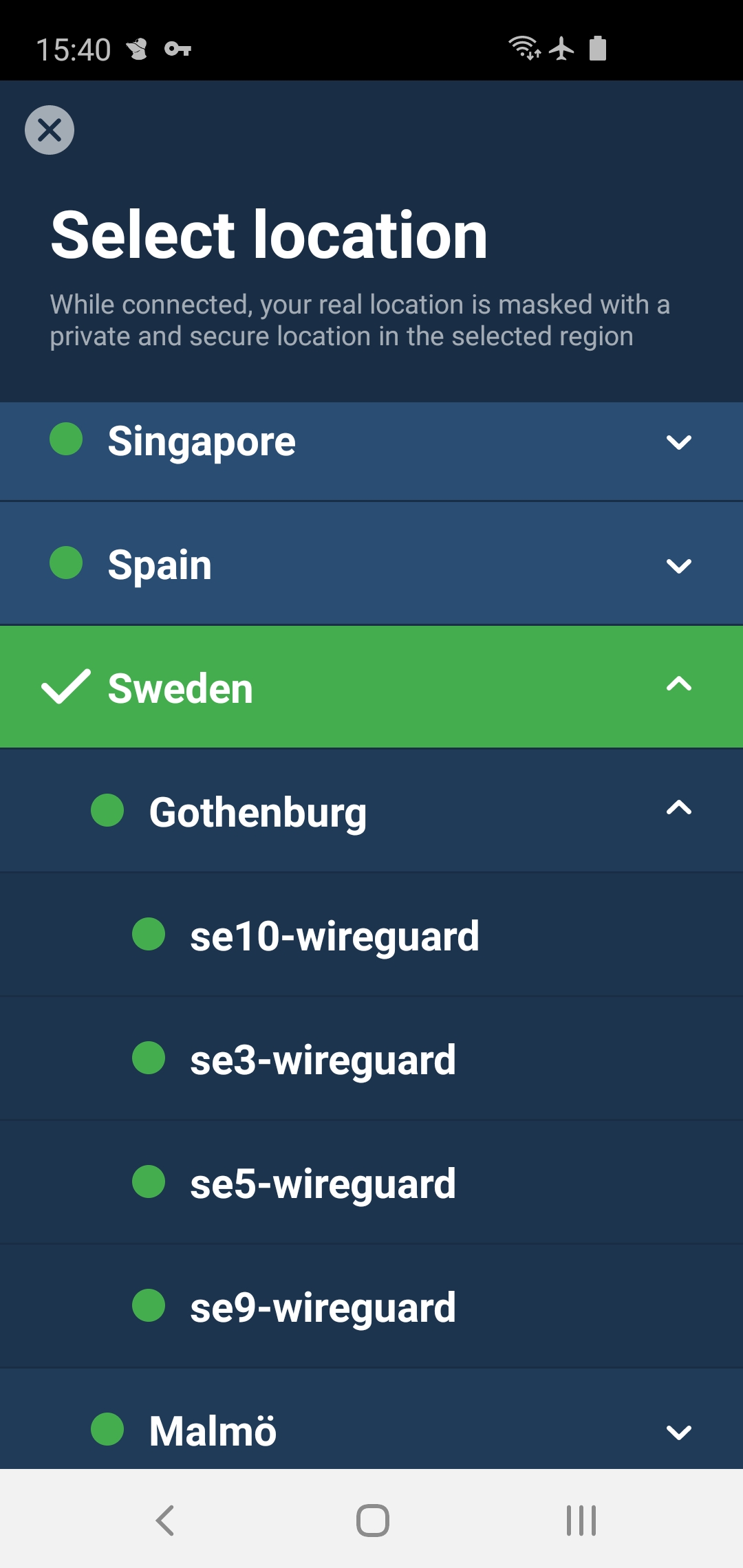 Disconnect
To disconnect, just tap Disconnect on the connection screen.
Settings
The Settings menu can be accessed by tapping on the gear icon in the top right corner.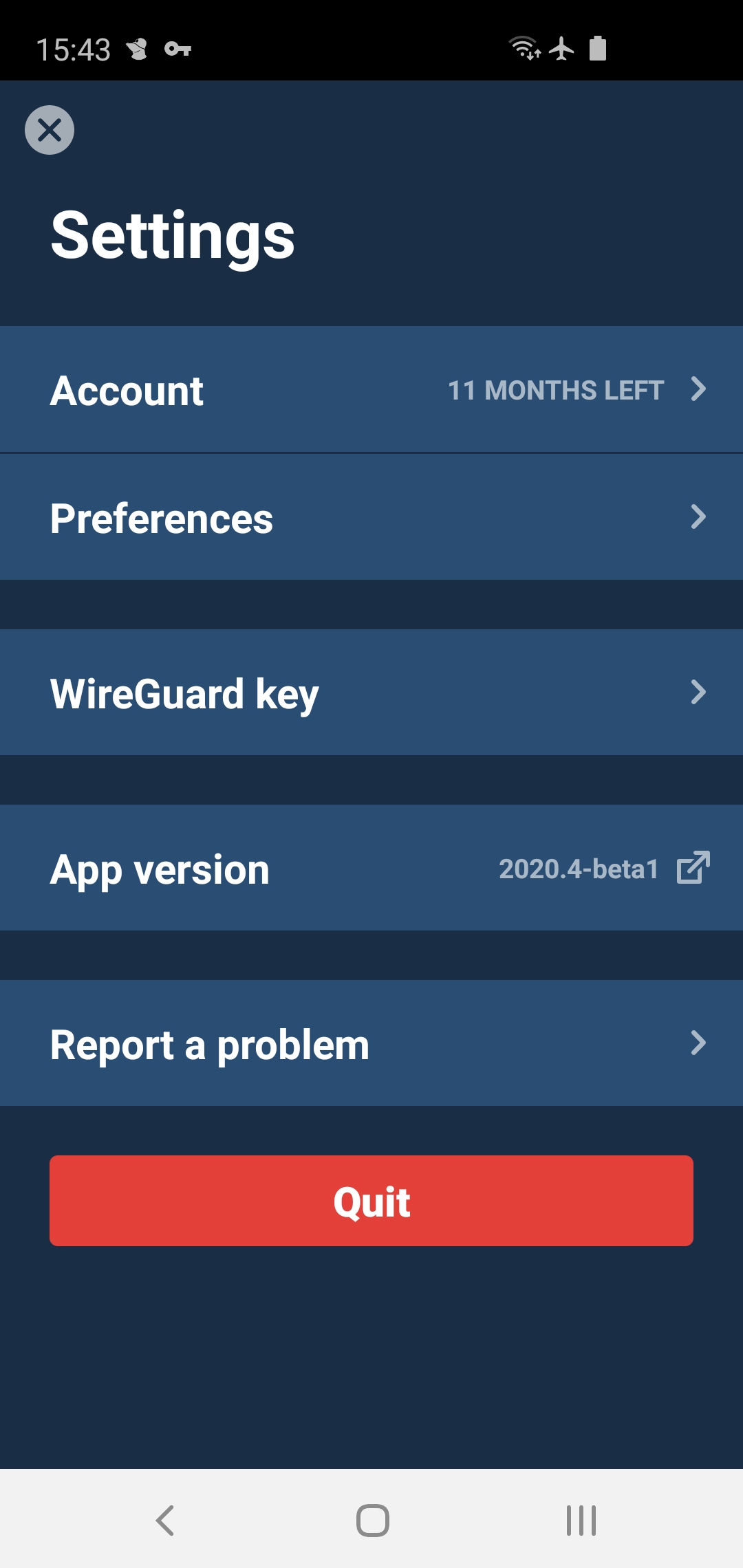 Account
Here you can view your account number and when your paid time runs out. Tap the account number to copy it to your device's clipboard.
This is also where you log out.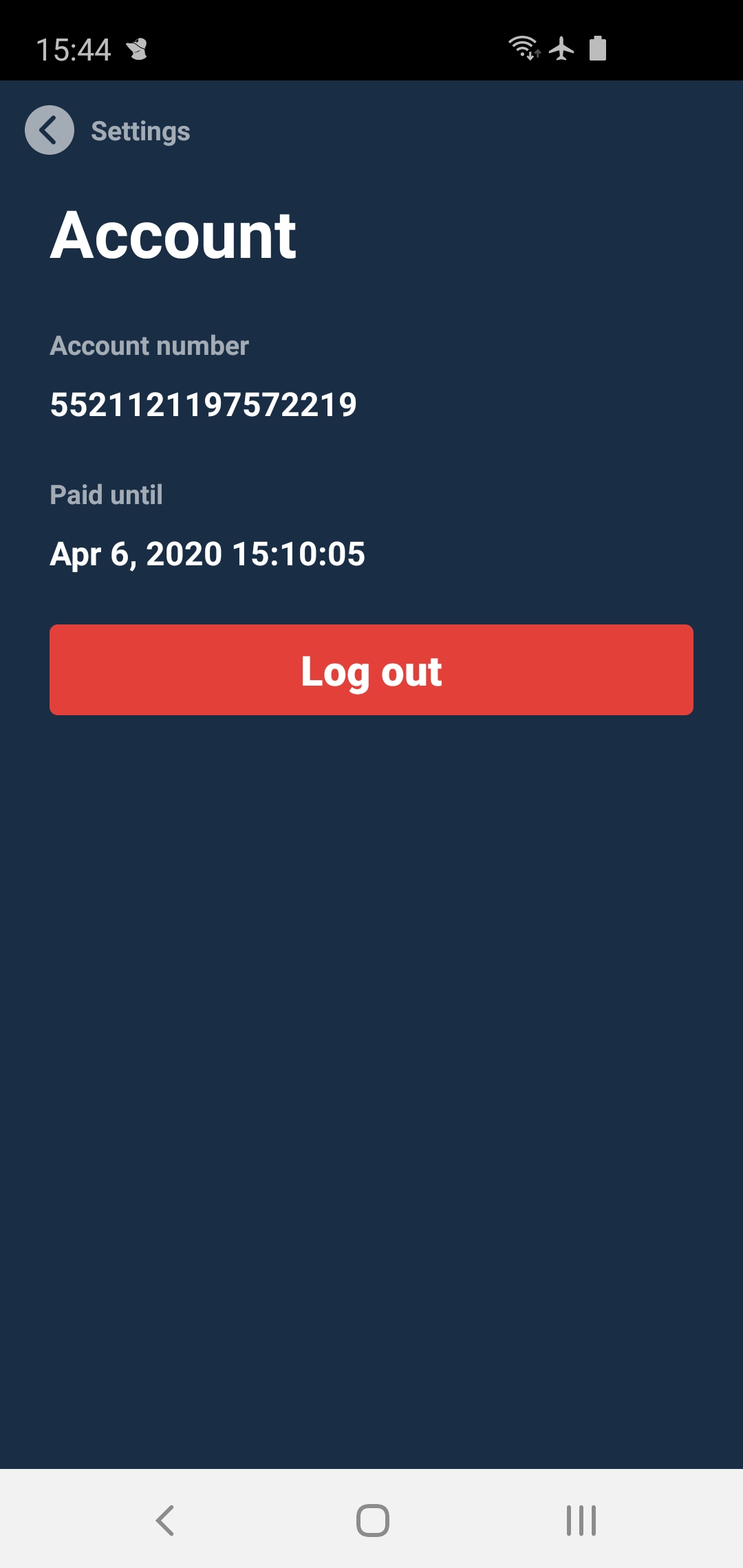 Preferences
Here's where you'll find the options for enabling Auto-connect and Local network sharing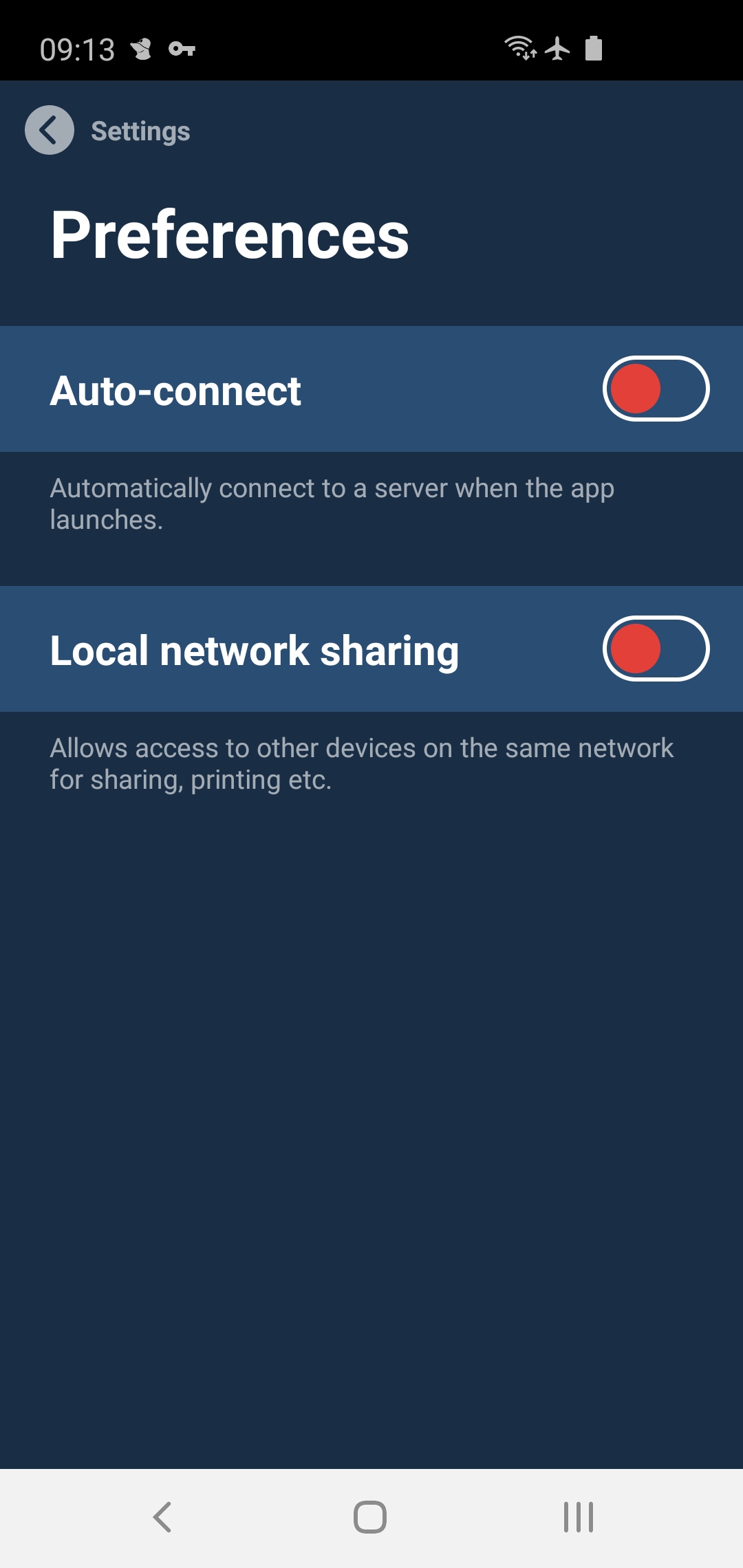 Advanced > WireGuard MTU
If you have a problem to stay connected to the VPN then try to lower the WireGuard MTU to 1280 or 1340. This is required by some mobile networks.
Advanced > WireGuard key
Here you can regenerate and verify your WireGuard® key. For an overview of all your keys, click on Manage keys to be redirected to your account page on our website.
Tapping Regenerate key will also replace your internal static IP address. The key is rotated automatically every seven days.

Advanced > Split tunneling
Split tunneling allows you to exclude some apps from the VPN. See our guide Split tunneling with the Mullvad app.
Advanced > Use custom DNS server
Use this option if you want to use another DNS server instead of the DNS on the Mullvad VPN server. Enter the IP-address to a DNS server. Note that this can affect your privacy if it's logging your DNS requests.
Report a problem
If you are having issues you can let us know by sending a problem report. Enter your email address if you want a reply. Describe your problem in English or Swedish.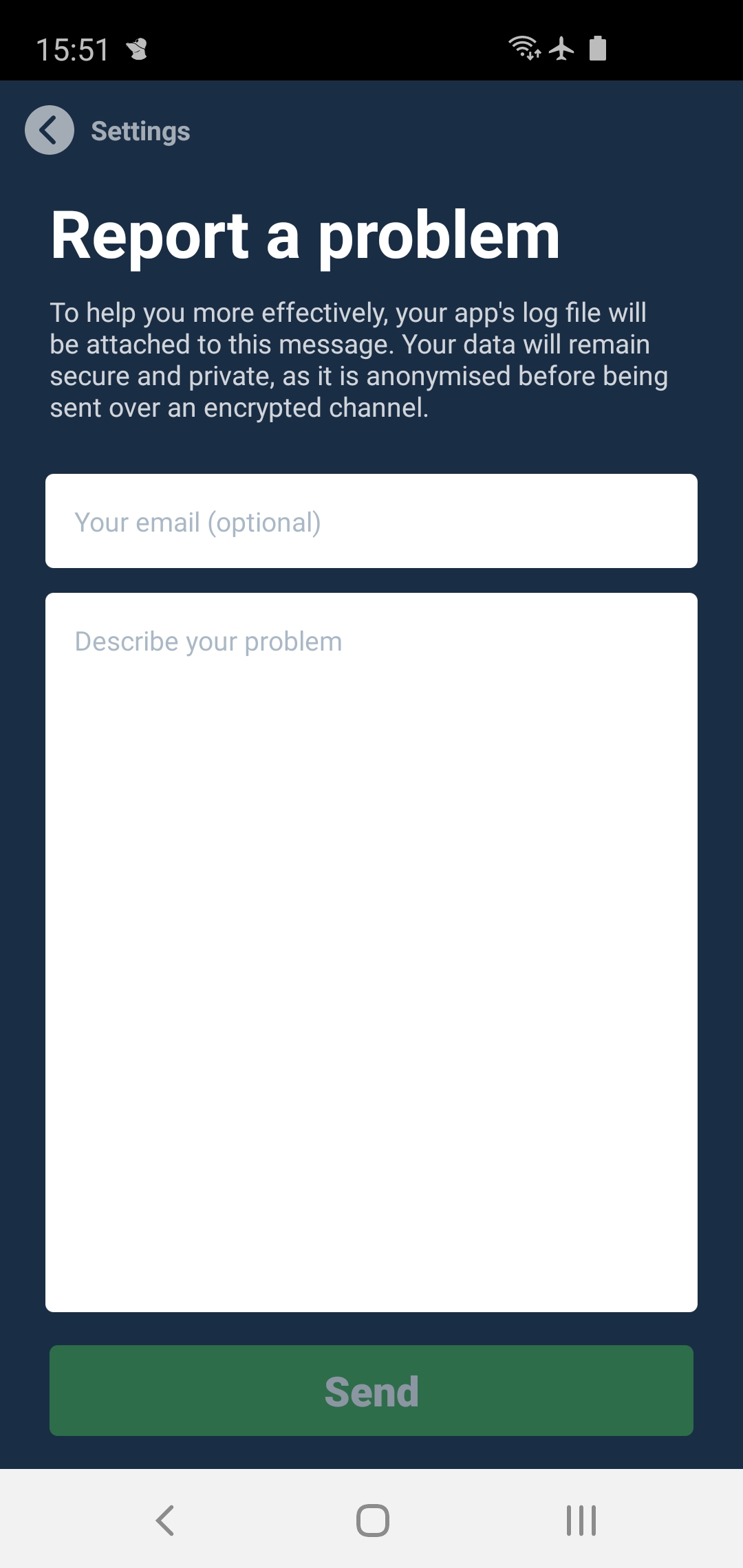 "WireGuard" is a registered trademark of Jason A. Donenfeld.