Unable to surf the entire web because you're stuck behind a restrictive firewall? Then Shadowsocks might be your answer. This guide shows how to use Shadowsocks in the Mullvad VPN app.
What is Shadowsocks?
Please see our Intro to Shadowsocks guide.
Enable Shadowsocks/Bridge mode.
Open the app and click on the gear icon.

Click on VPN settings.
Scroll down to Tunnel protocol and click on OpenVPN.
Click on OpenVPN settings.
Under Bridge mode click on On.
In the popup click Enable anyway.
By default, Bridge mode is set to Automatic. This means that if the app fails to connect three times (often a sign that you're stuck behind a restrictive firewall), it will then attempt a bridge connection.
If you intend to use Shadowsocks or other bridge connections at all, switch the setting to On. Doing so will connect you faster. This setting may be worth trying if you're in a restrictive country (for example, Turkey).
Your connection details
Once connected, you can look at the bridge details on the app's connection screen by clicking on the servers. Additional details about your connection will be displayed, including the fact that you're using Shadowsocks.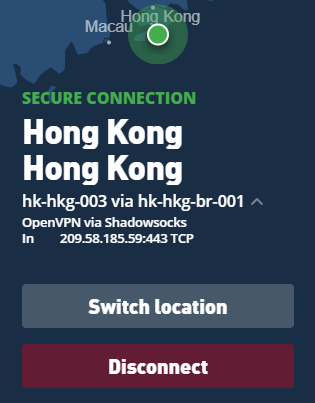 Under the connection location, you'll see two servers listed. Our example shows "hk-hkg-003 via hk-hkg-br-001".
Your internet traffic begins by entering the second server (in this example, hk-hkg-br-001) which acts as the Shadowsocks proxy. Then it proceeds onward to the other server (hk-hkg-003) before exiting. The exit server's IP address and location is what becomes publicly visible. If you check your connection with our Connection check, this is the information you will see.