Mullvad on Android / Chromebook devices
This guide works both for Android phones and Chromebooks.
Chromebook users: you might need to upgrade to the latest Chrome OS in order to get support for Google Play.
Setting up OpenVPN on your device
From the Google Play Store on your device, search for and install OpenVPN for Android. Mullvad uses this application to make a VPN connection on Android devices and Chrome OS.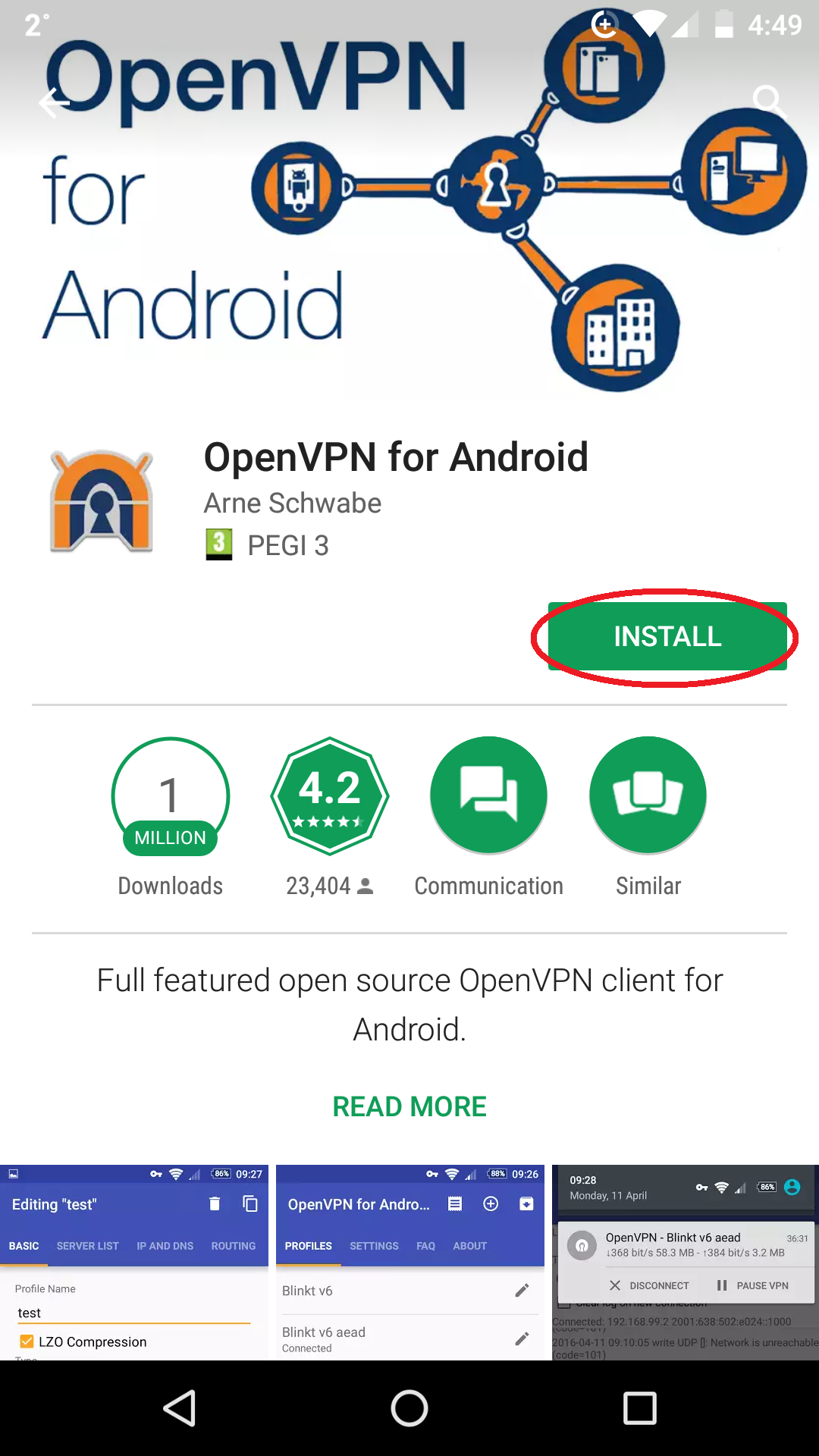 Click on Accept in the dialog box requesting access permissions.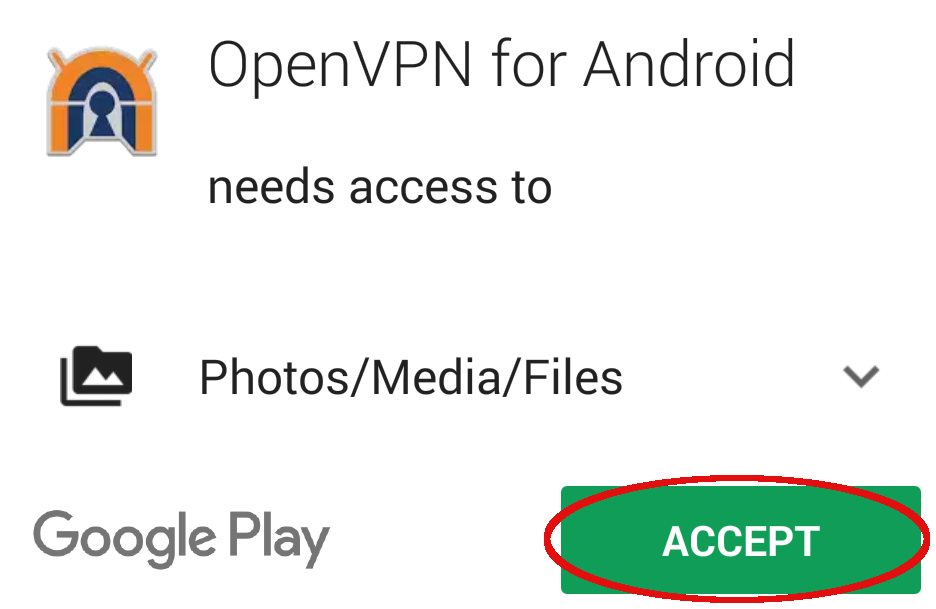 Configuring Mullvad on your device
From your Android device or Chromebook, open the Mullvad website in a browser.
Tap the menu icon in the top right corner of the screen and then tap the "Download client" button.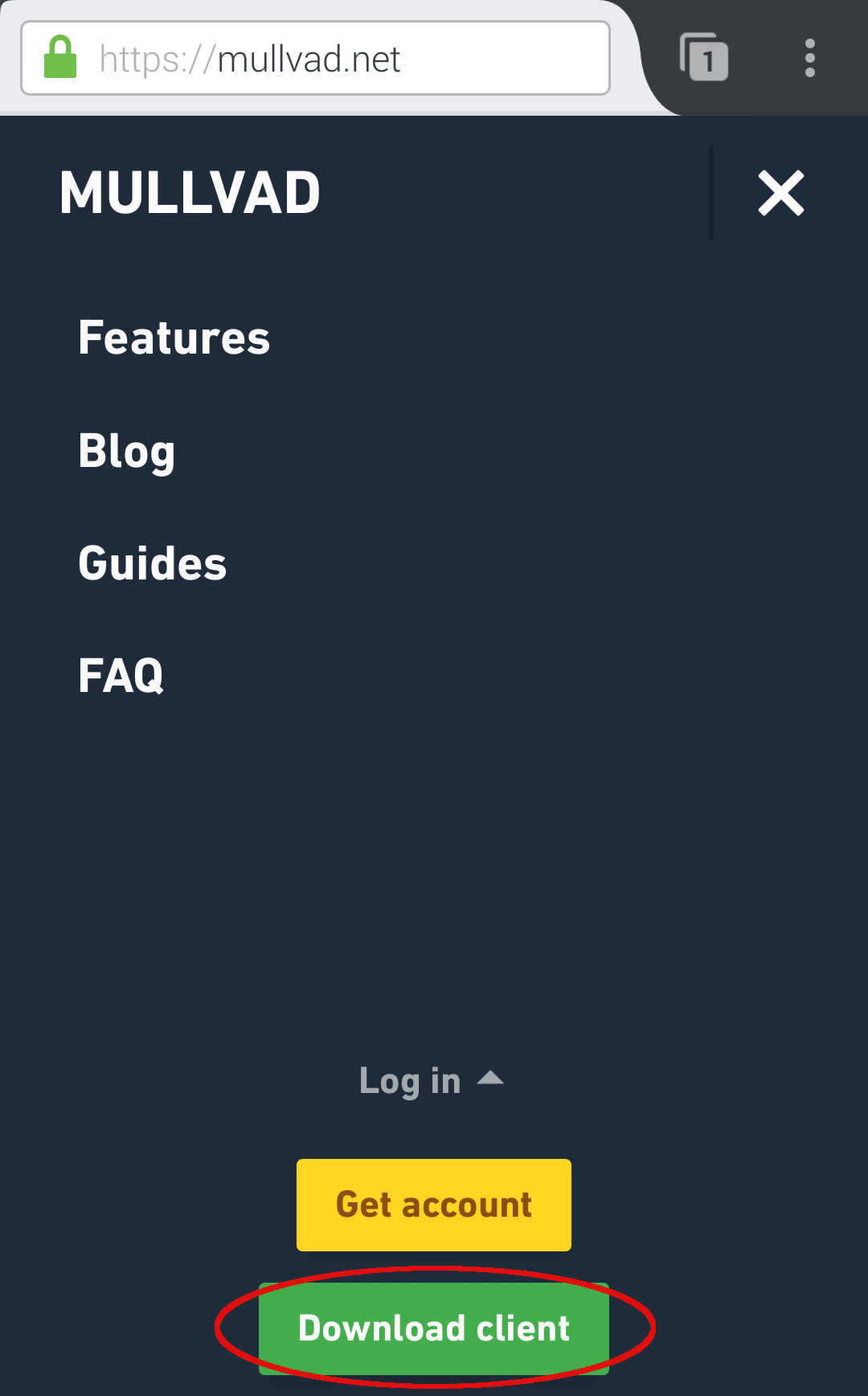 Tap the "Instructions and configuration files" button.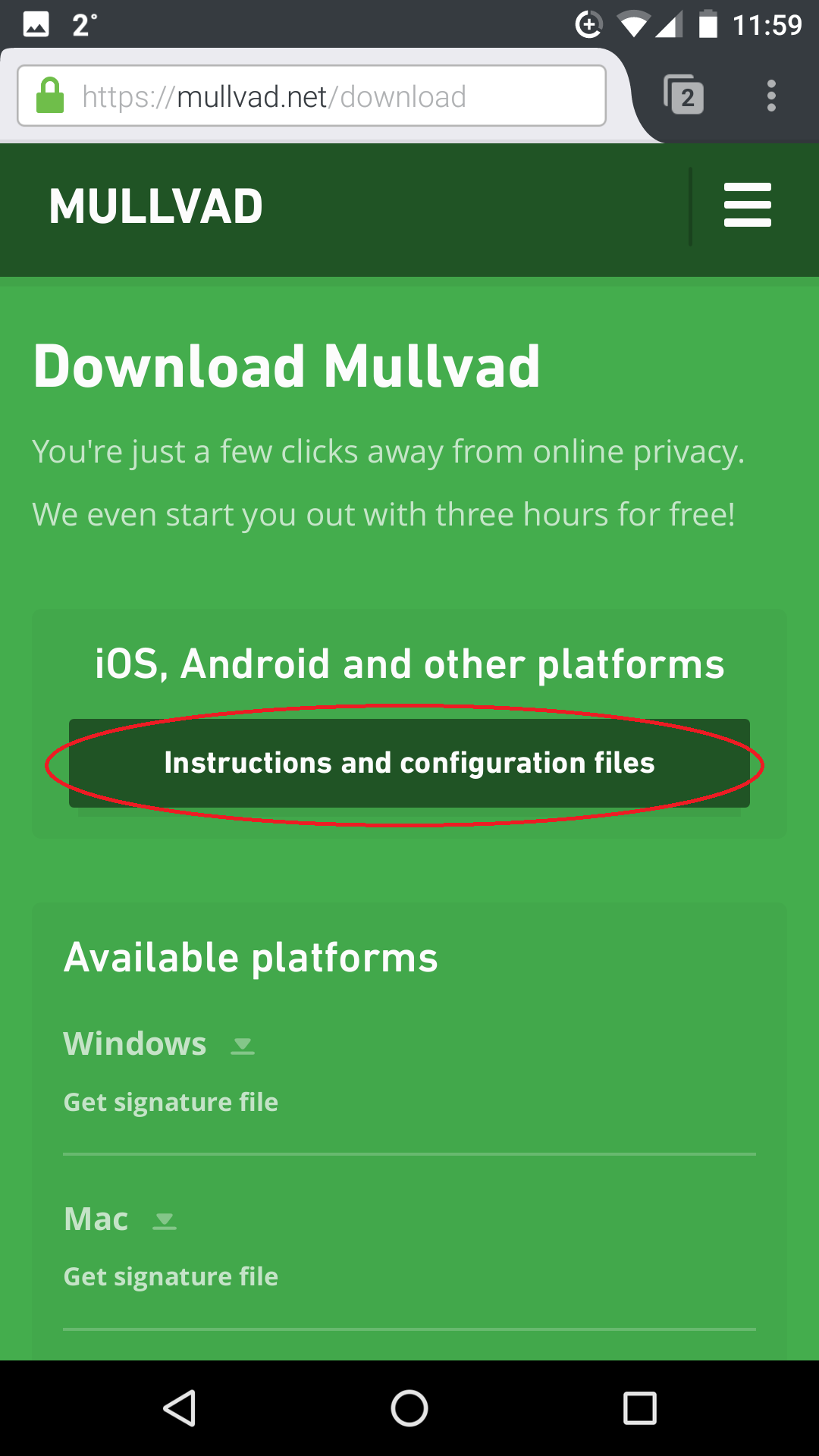 Fill out the form:
Account number – enter your account number.
Platform – select Android/Chrome OS from the drop-down menu.
Region – select the region you wish to connect to.
Port and Use IP addresses – you can leave these as they are.
Then tap the Download button and save the file to your device.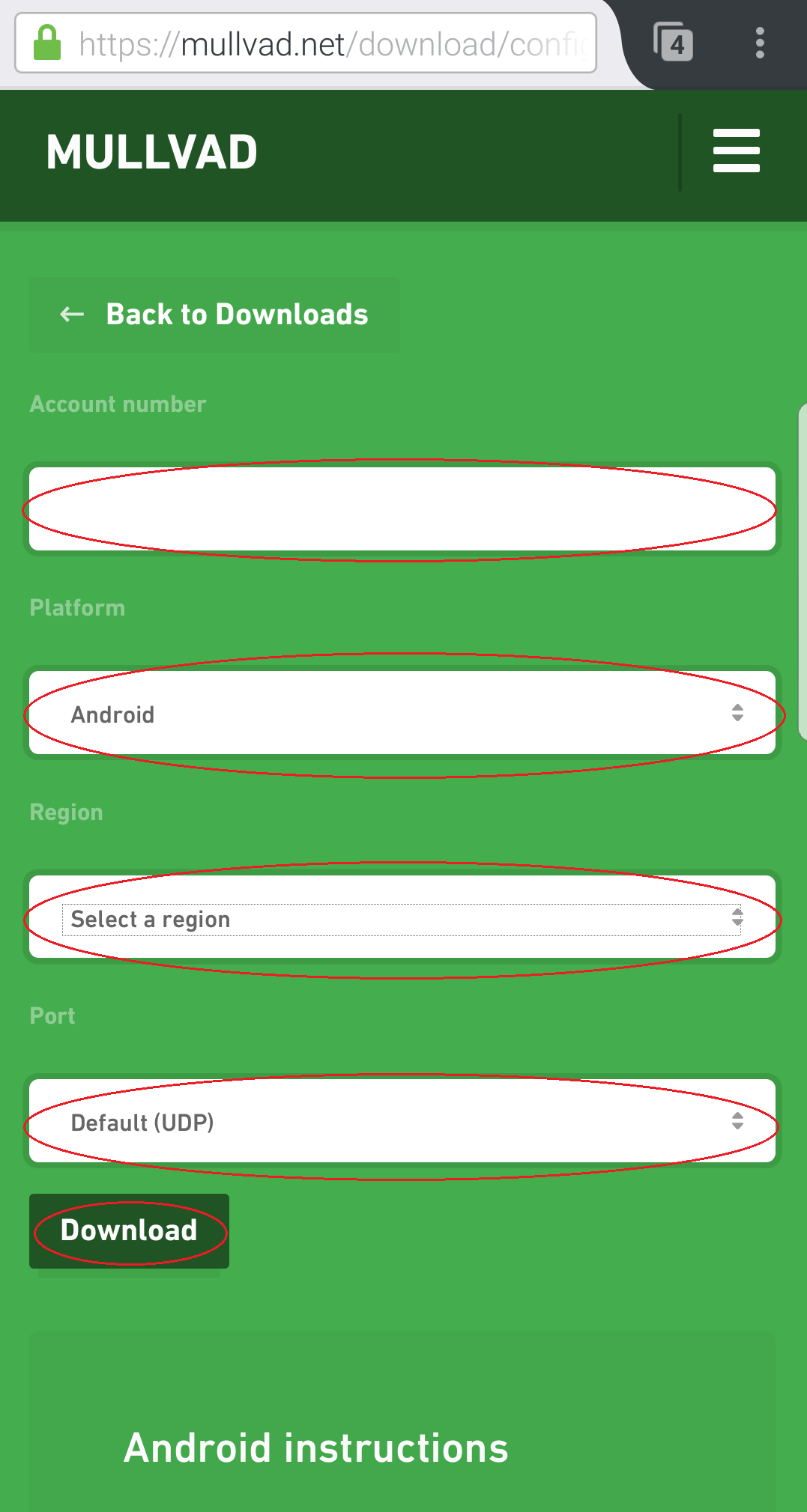 Start the OpenVPN app and click on the "+" icon located in the top menu.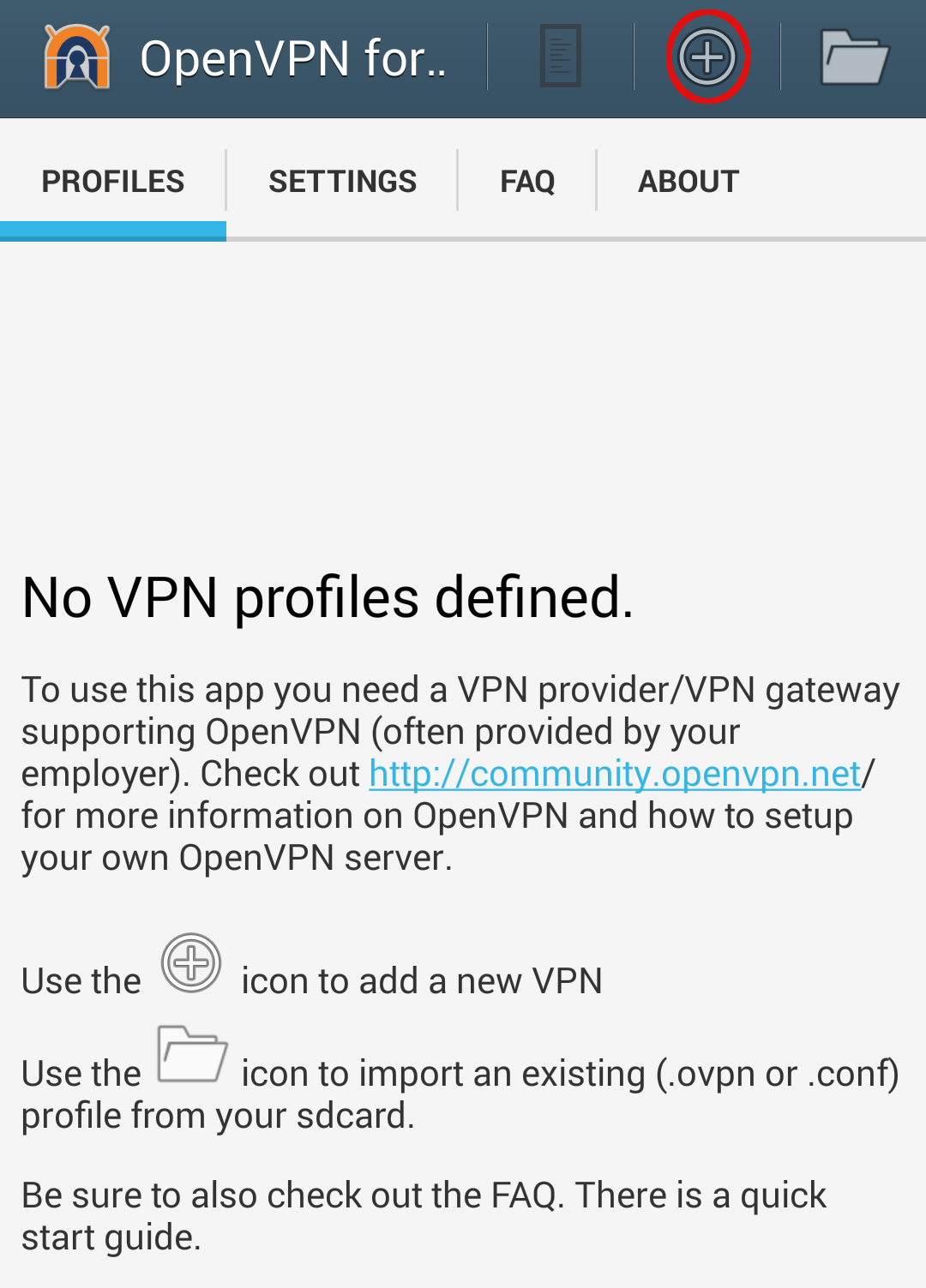 In the Add Profile dialog box, click on "Import".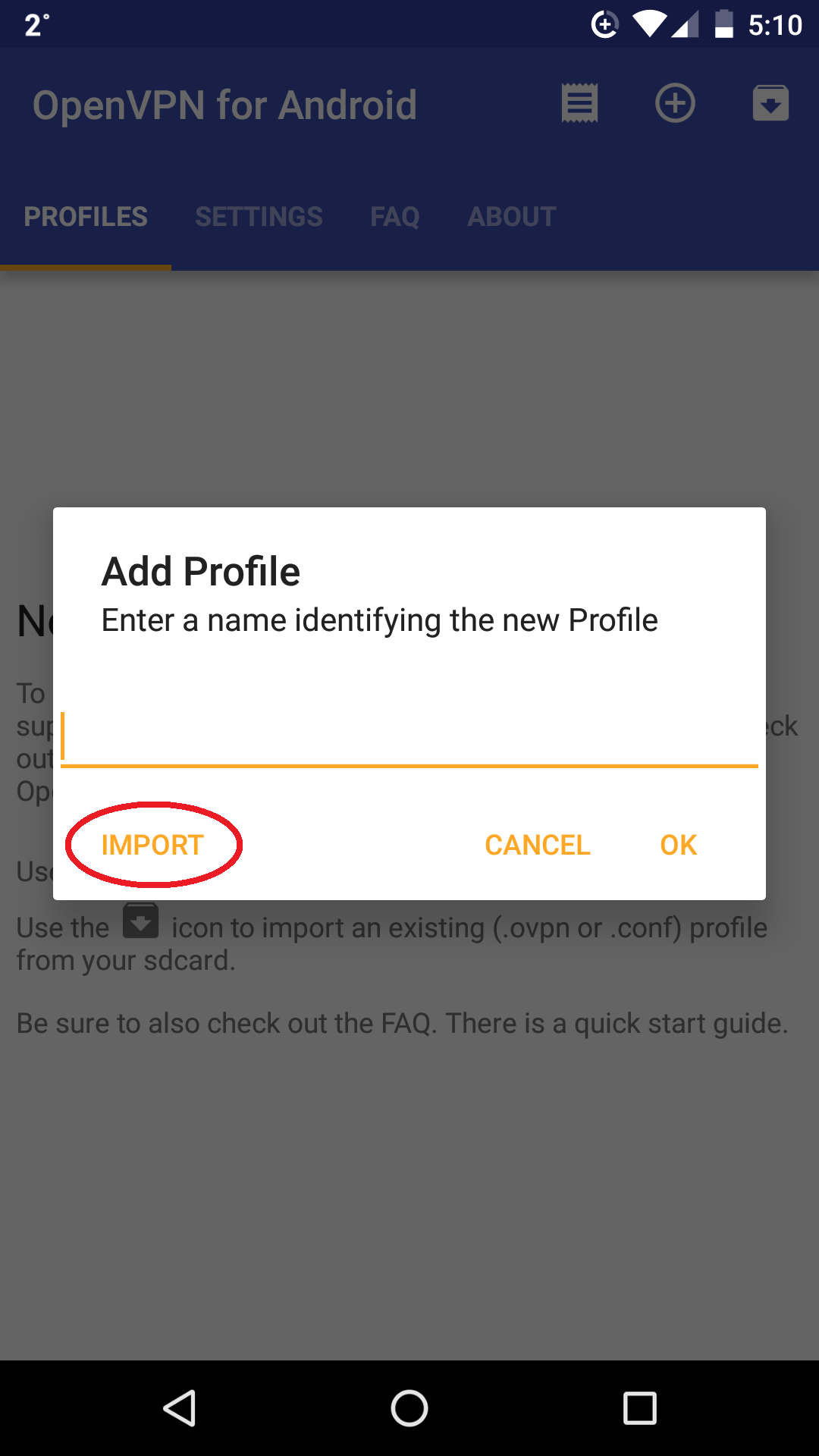 Tap the configuration file that you downloaded from Mullvad's website.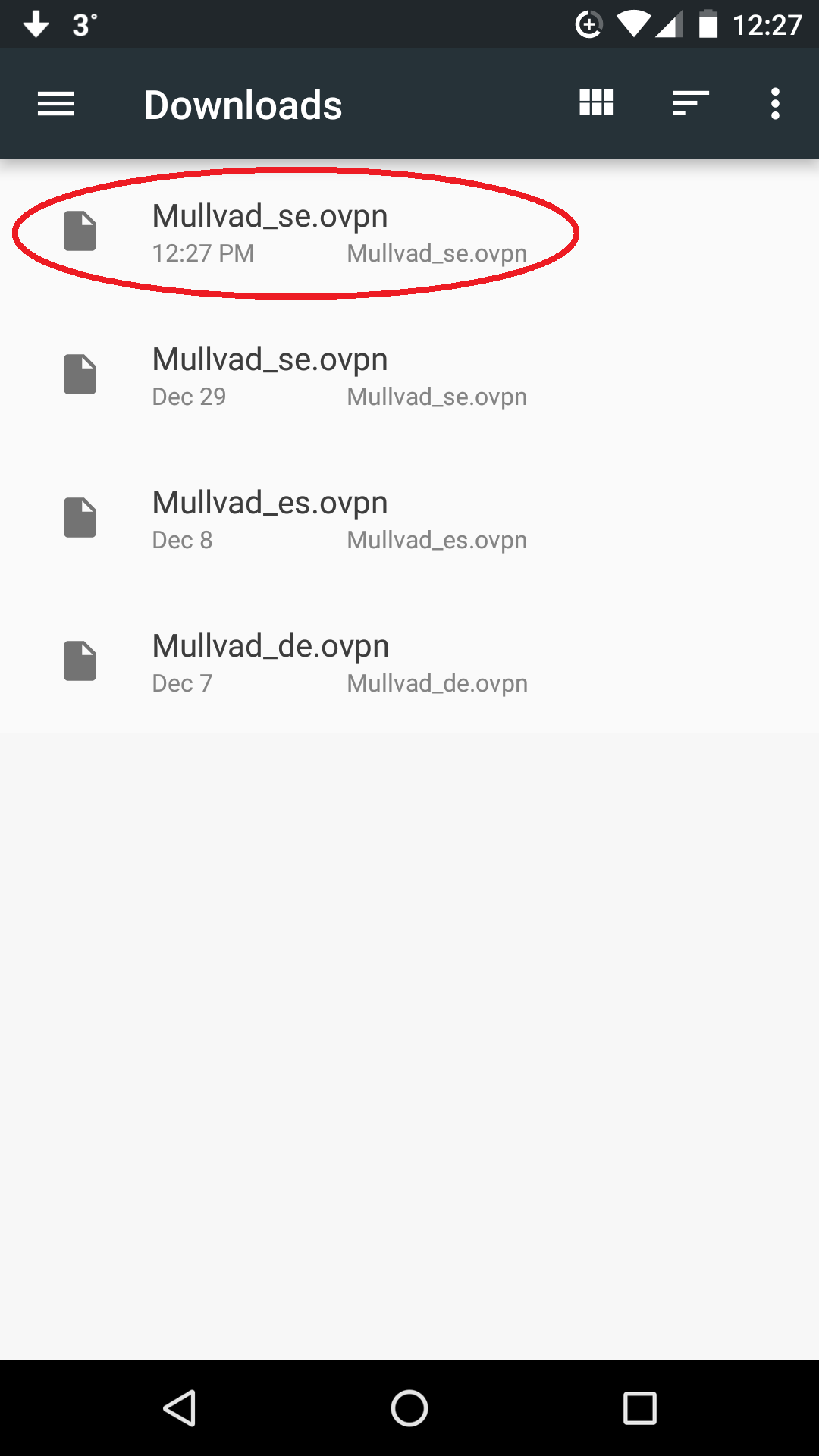 Tap on the "Save" icon in the bottom right-hand corner of the window.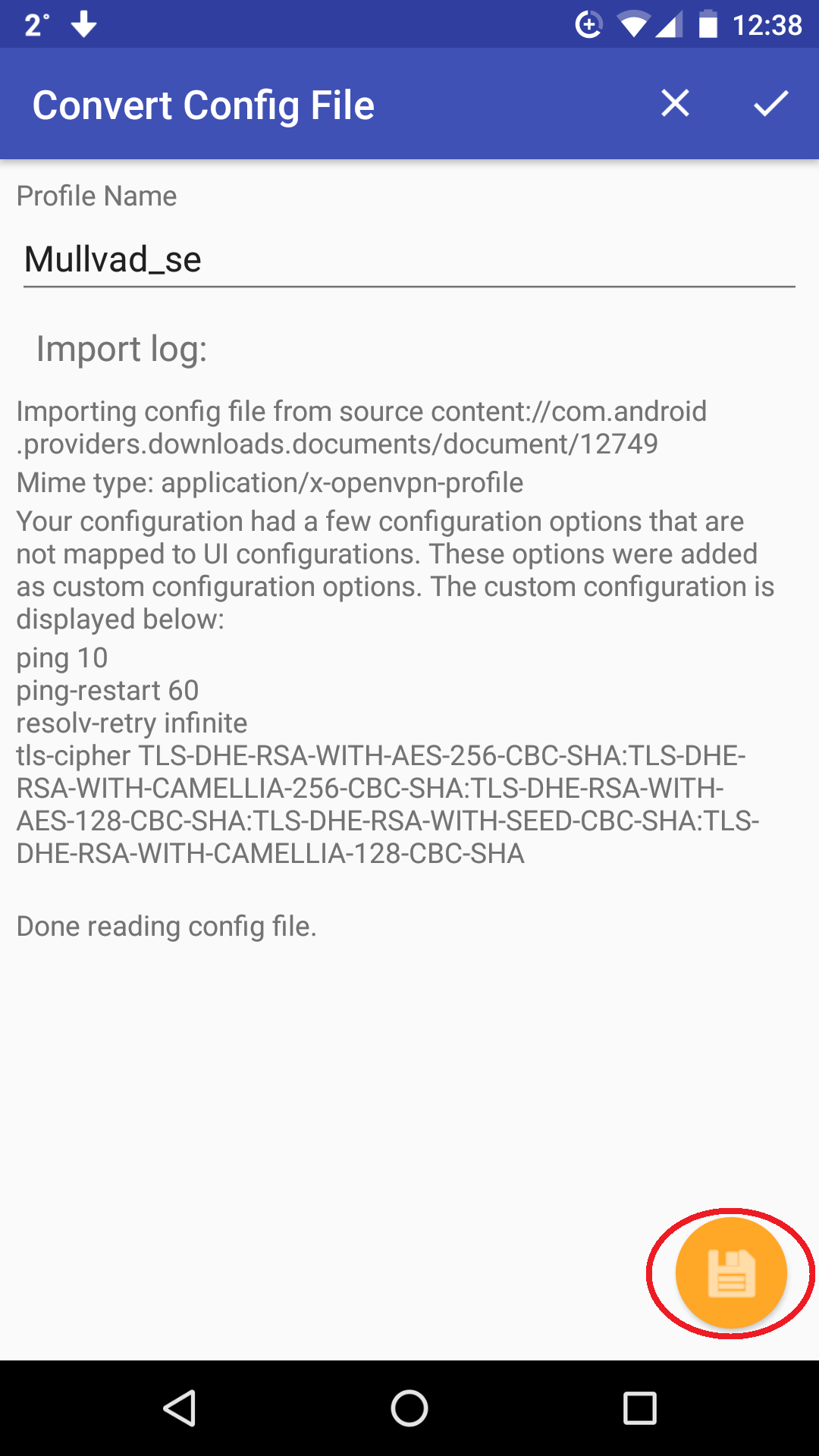 Connecting to Mullvad VPN on your device
Tap on the profile you just saved in order to connect.
The first time you connect to a profile, you will be asked for a username and password:
username – use your Mullvad account number
password – use the letter 'm'.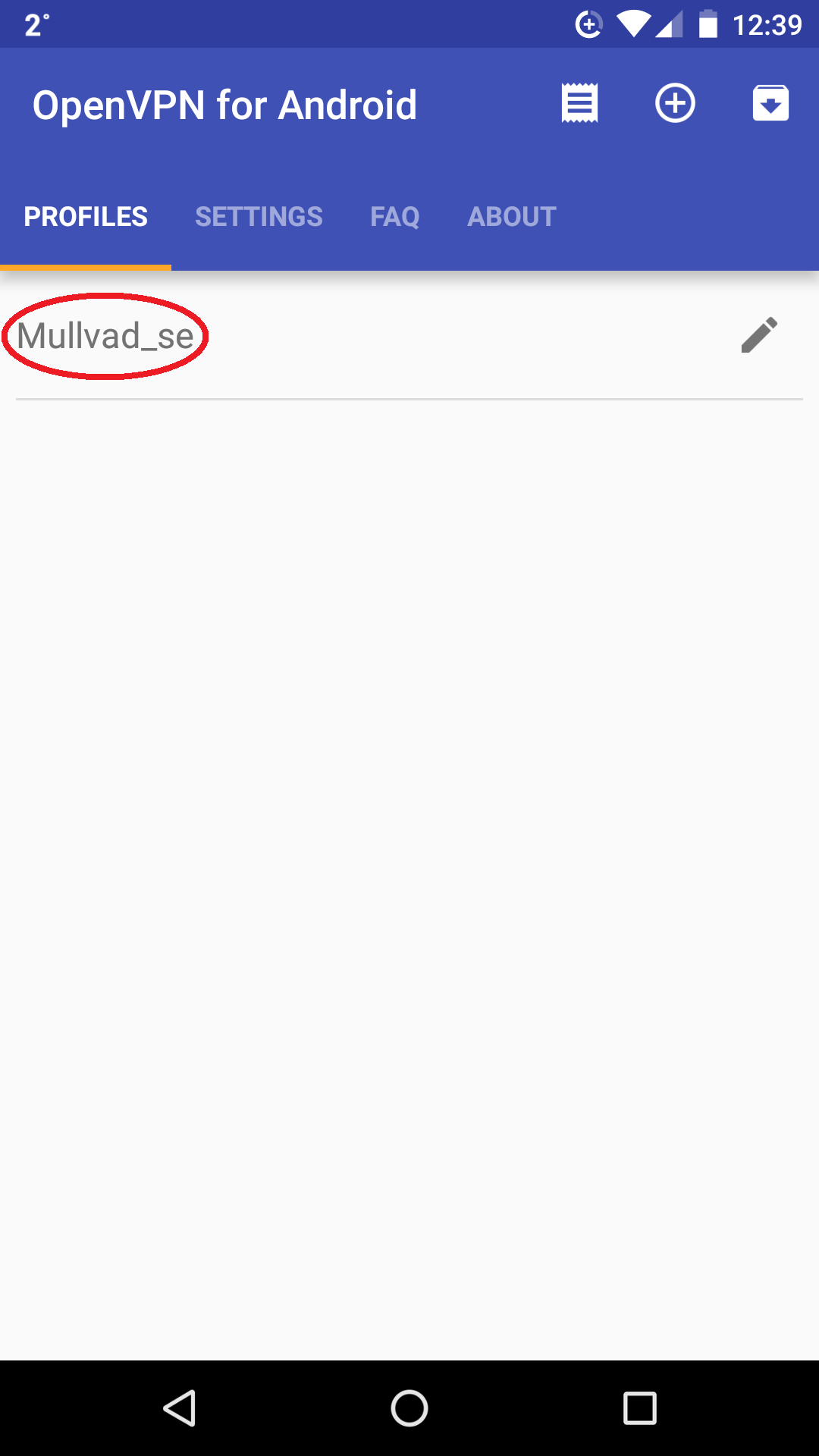 In the "Connection request" dialog box, click on OK. Some devices may require you to checkmark a box next to "I trust this application" before being able to click OK.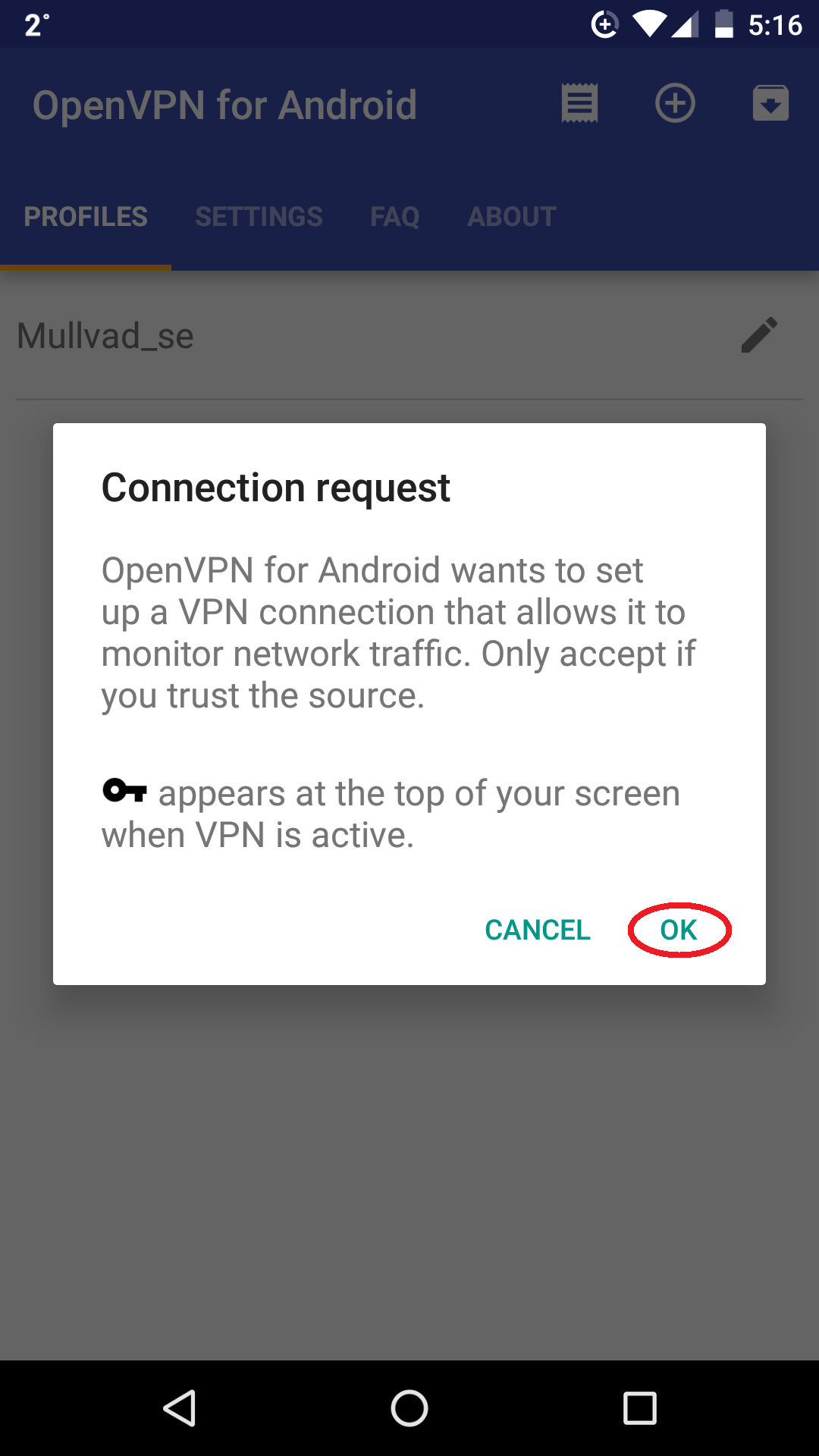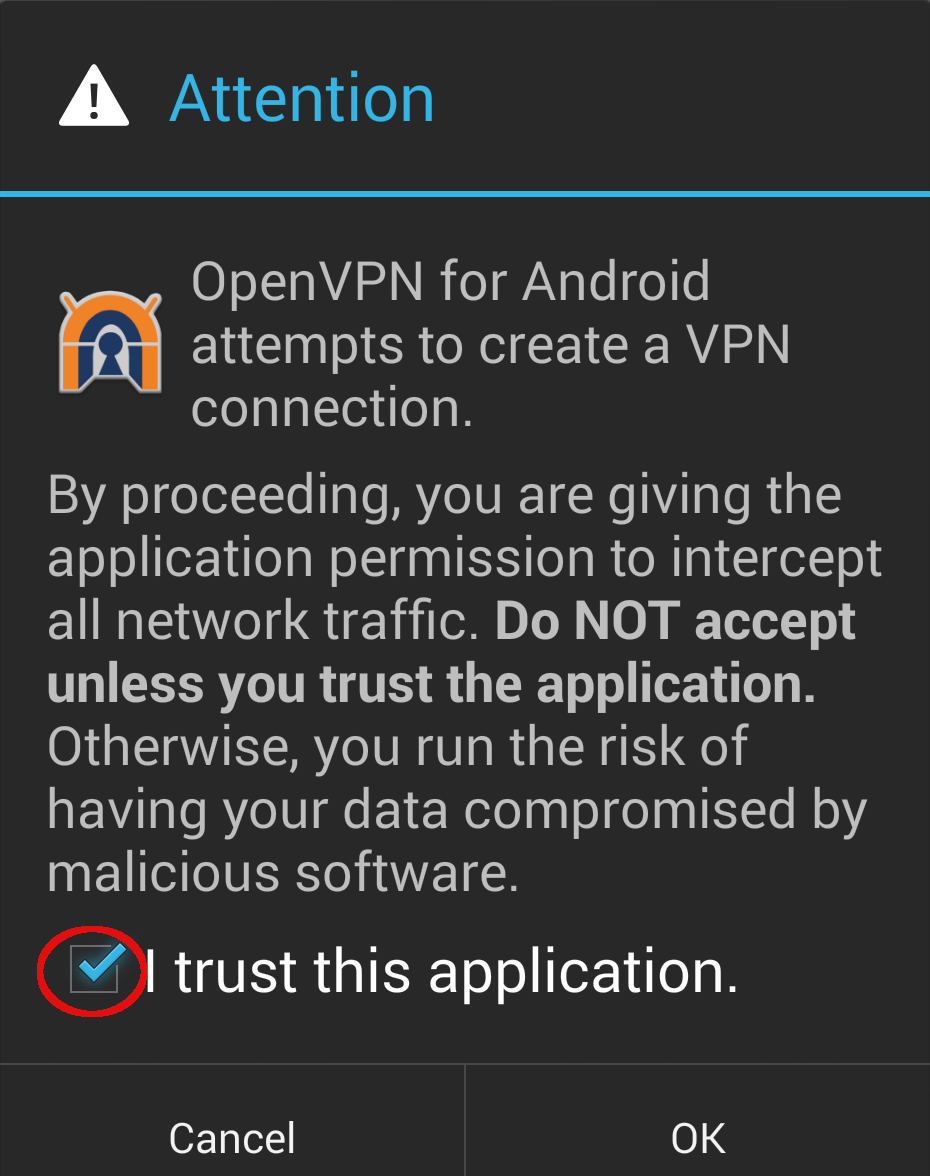 In the OpenVPN Log window, you will see a log of activity taking place. Once the last line reads "Initialization Sequence Completed", you are then connected to Mullvad's servers.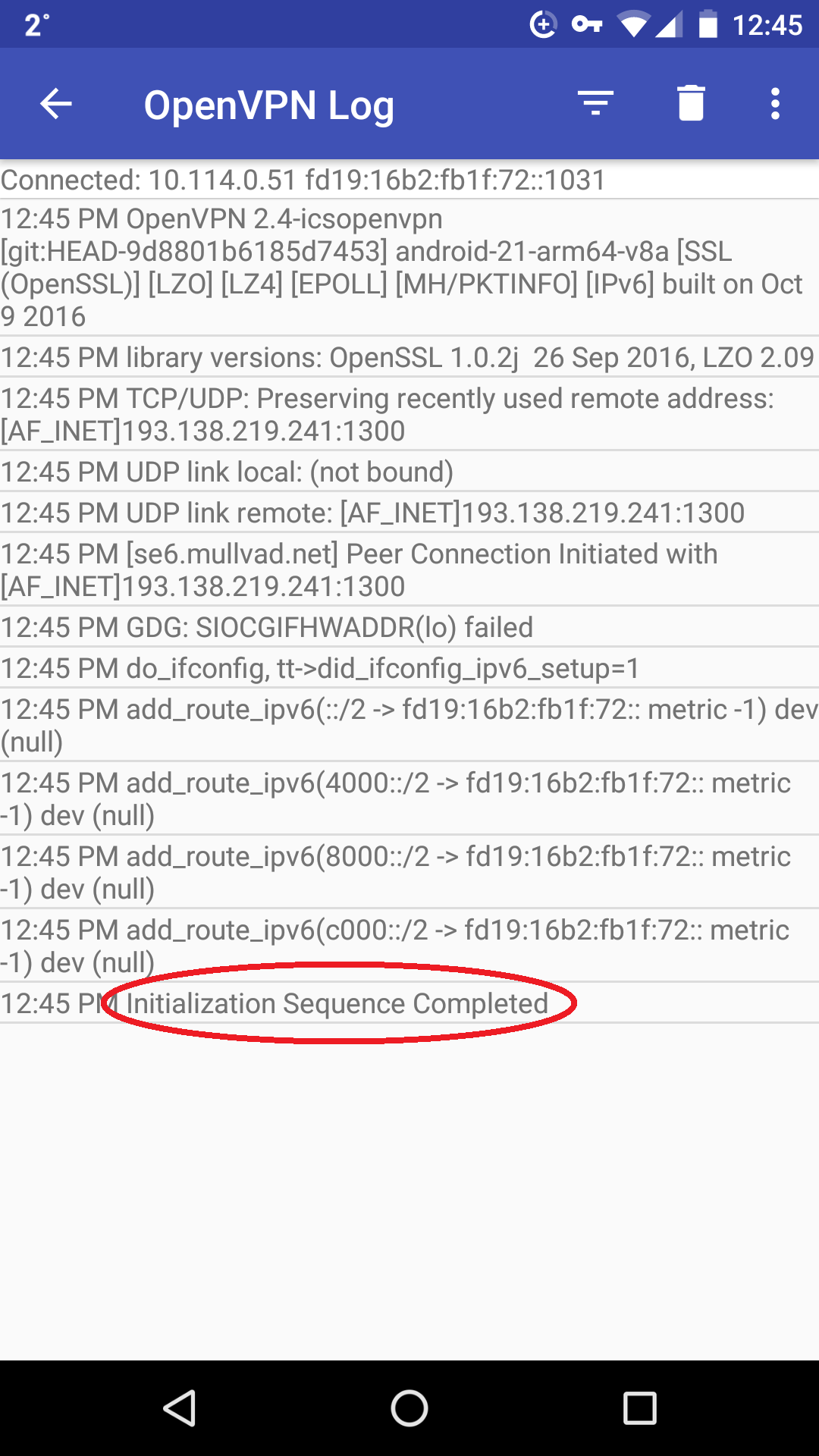 Are you connected?
A key icon displayed in your device's status bar signals that you are connected.


Disconnecting
You can stop your VPN connection in a few different ways.
While in the OpenVPN Log window, tap on the icon in the top right corner to display a menu of options. Here you can tap on "Disconnect VPN".
In the main window of the OpenVPN app where your connection profile is displayed, tap on the profile and click on OK to confirm that you'd like to disconnect.
Dragging down your device's status bar displays extra settings which allow you to disconnect from or pause your VPN connection.

Easily check your online privacy with Am I Mullvad
While you're connected to Mullvad, your browser could still be leaking information and therefore jeopardizing your privacy. With our Am I Mullvad tool, you can now get a quick overview of your connection status.

Managing multiple connections
If you want to connect through a different country, just repeat the steps for configuring Mullvad on your device.

Increasing your online privacy
To increase your privacy, use your browser's privacy mode. To do this in either Chrome or Firefox, open your browser and tap the menu icon in the top right-hand corner. In Chrome, tap "New incognito tab"; in Firefox, tap "New private tab".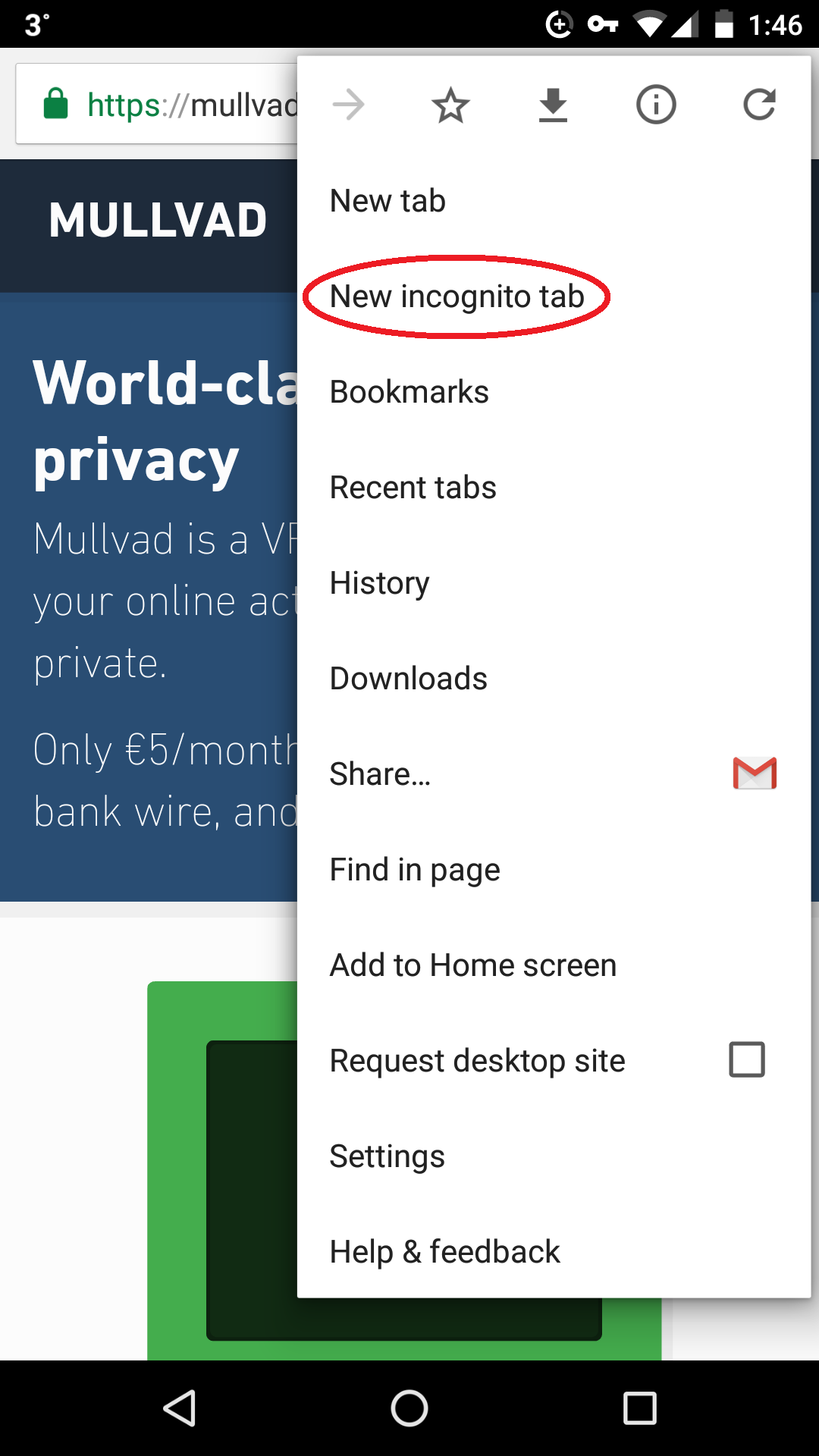 Notice that the browser window has a dark border to indicate that you are in privacy mode. Chrome also indicates privacy browsing with a privacy icon.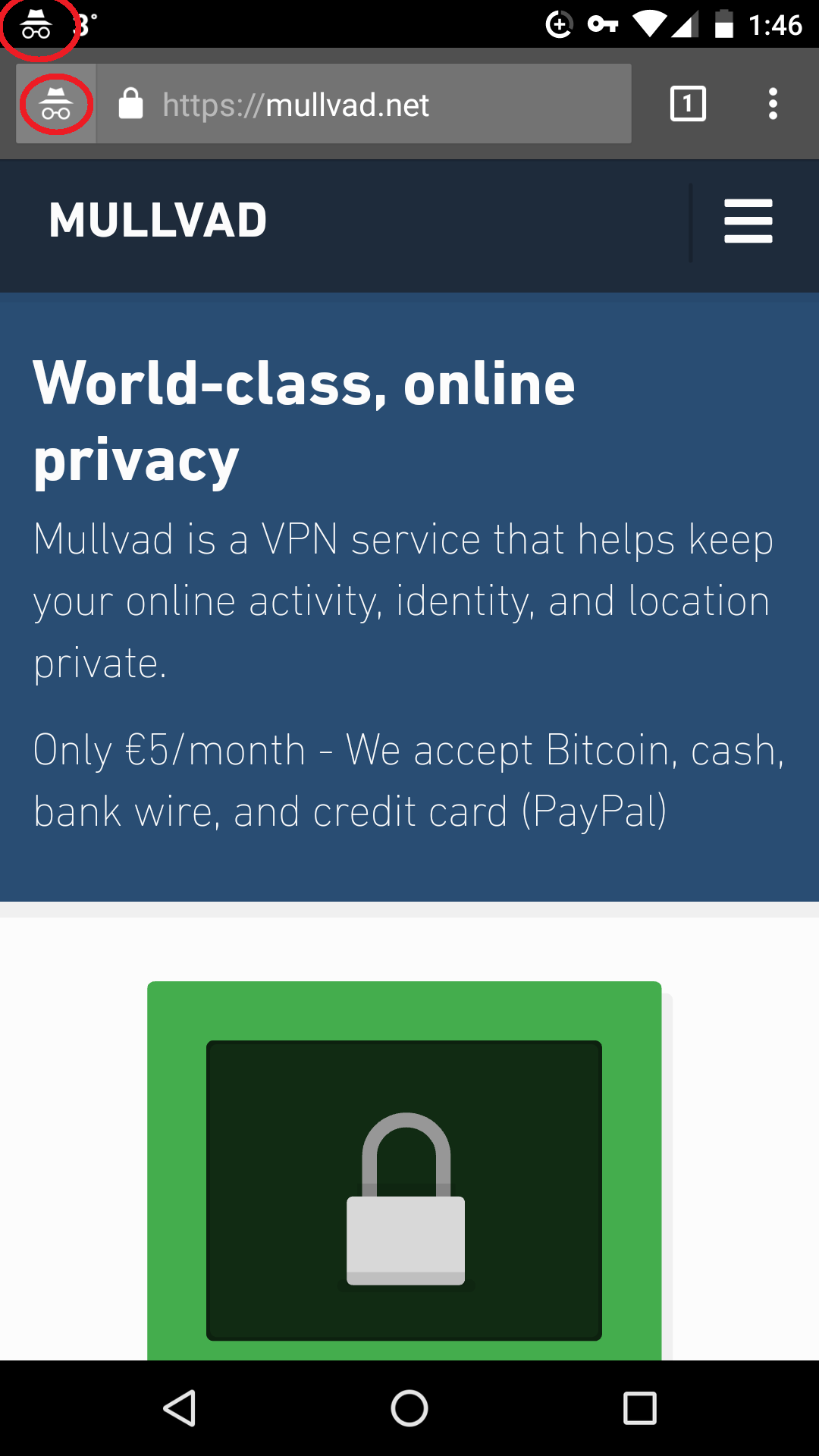 Increased security with SOCKS5 proxy
With the SOCKS5 proxy installed on all of Mullvad's VPN servers, you can further minimize your computer's identity from being revealed. This simple yet powerful feature also reduces CAPTCHAs.
Read our SOCKS5 proxy guide for instructions on how to configure your web browser or torrent client for increased security.
SOCKS5 Proxy with Firefox on Android:
Enter about:config in the address bar and click send.
In the search field enter proxy.
Scroll down to network.proxy.socks and enter 10.8.0.1.
Scroll down to network.proxy.socks_port and enter 1080.
Change the value for network.proxy.socks_remote_dns to True.
Change the value for network.proxy.socks_version to 5.
Change network.proxy.type to 1.
Clear the field for network.proxy.ftp.
Clear the field for network.proxy.http.
Clear the field for network.proxy.ssl.
Click on the back button to save the changes.
To disable this, go to step 7 and change the value to 5.