WebRTC is a technology that allows users to communicate with video and audio directly in the browser without any plugins installed. An unfortunate side effect is that your real IP is at risk to being exposed, stripping you of your anonymity.
However, you can disable WebRTC. Learn more about WebRTC on Wikipedia.
How do I test my browser?
Visit our Am I Mullvad website to check whether or not your browser uses WebRTC. You're safe if the WebRTC box is green. If it's red, then follow our instructions below for disabling WebRTC.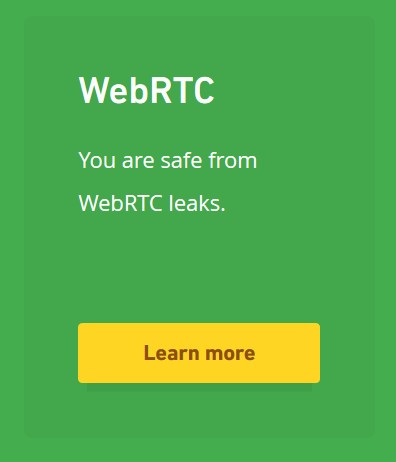 Please note that disabling WebRTC will cause some websites that use it to not work properly. You might therefore want to re-enable it when you're not using Mullvad.
Disable WebRTC in your browser
Chrome
Please use Firefox instead, as there is currently no known working solution for Chrome other than a plugin that is easily circumvented.
iOS users: Chrome on iOS does not seem to implement the vulnerable parts of WebRTC yet.
Advanced users: read our Advanced options section.
Firefox – easy method
Desktop and Android users can use the Disable WebRTC plugin for Firefox. Click on the "Add to Firefox" button and follow the instructions to install the plugin.
Once installed, it will disable WebRTC by default. You can check by looking for the plugin's 'W' icon in the Firefox toolbar. The plugin is working if the icon is green. Click it and it will turn red, meaning that WebRTC is enabled again.
Firefox – advanced method
Use these instructions if you wish to manually disable WebRTC:
Type "about:config" into the address bar and hit Enter.
Click the button "I accept the risk!".
Type "media.peerconnection.enabled" in the search bar. Only one entry should appear.
Right-click on the entry and choose "Toggle" to change the Value column to "false".
To enable WebRTC again, follow the instructions until the Value column changes back to "true".
Internet Explorer
Internet Explorer does not yet implement WebRTC.
Microsoft Edge
There is currently no way to disable WebRTC in Edge, however you can prevent it from leaking your local IP address. To do this navigate to "about:flags" tick the box next to "Hide my local IP address over WebRTC connections".
Safari
macOS users: Click on Safari, then go to Prefereces -> Advanced -> Enable the "Show develop menu in menu bar" after that open the Devleop menu and select Experimental features, and then uncheck the WebRTC options , however this is an experimental feature so we recommend that you instead use Firefox as your browser and follow our instructions for disabling WebRTC in Firefox.
iOS users : Go to the Settings app, tap on Safari, scroll all the way down, and tap on Advanced, and then in Experimental features, disable everything that has WebRTC as a name. (do keep in mind it is an Experimental feature)
Advanced options
For advanced users, as long as you do not allow JavaScript on any of the websites you visit, this plugin works:
Understand that this plugin can break websites if you do not allow JavaScript on them.