Asus Merlin and Mullvad VPN
Asuswrt-Merlin is a third party firmware for Asus routers as well as is an Open Source firmware and custom version of Asuswrt with advanced OpenVPN client

Asuswrt-merlin officially supports the following router models:
RT-N66U
RT-AC66U
RT-AC66U_B1 (same firmware as the RT-AC68U)
RT-AC56U
RT-AC68U (including revisions C1 and E1)
RT-AC68P (same firmware as RT-AC68U)
RT-AC87
RT-AC3200
RT-AC88U
RT-AC3100
RT-AC5300
RT-AC1900 (same firmware as RT-AC68U)
RT-AC1900P (same firmware as RT-AC68U)
Open a web browser and enter the IP address of your router, which is normally 192.168.1.1. In this tutorial our LAN IP address is 192.168.1.1 , It is possible to change it in Advanced Settings > LAN
In Advanced Settings click on VPN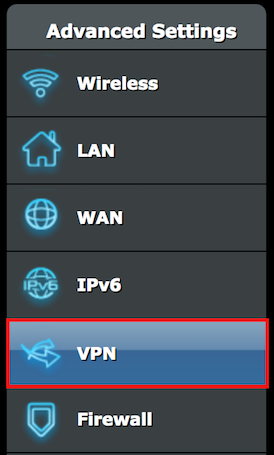 Click on the "VPN Client" tab at the top of your screen and then click on "OpenVPN" in order to create a VPN connection.

Click on the Mullvad configuration file and then open.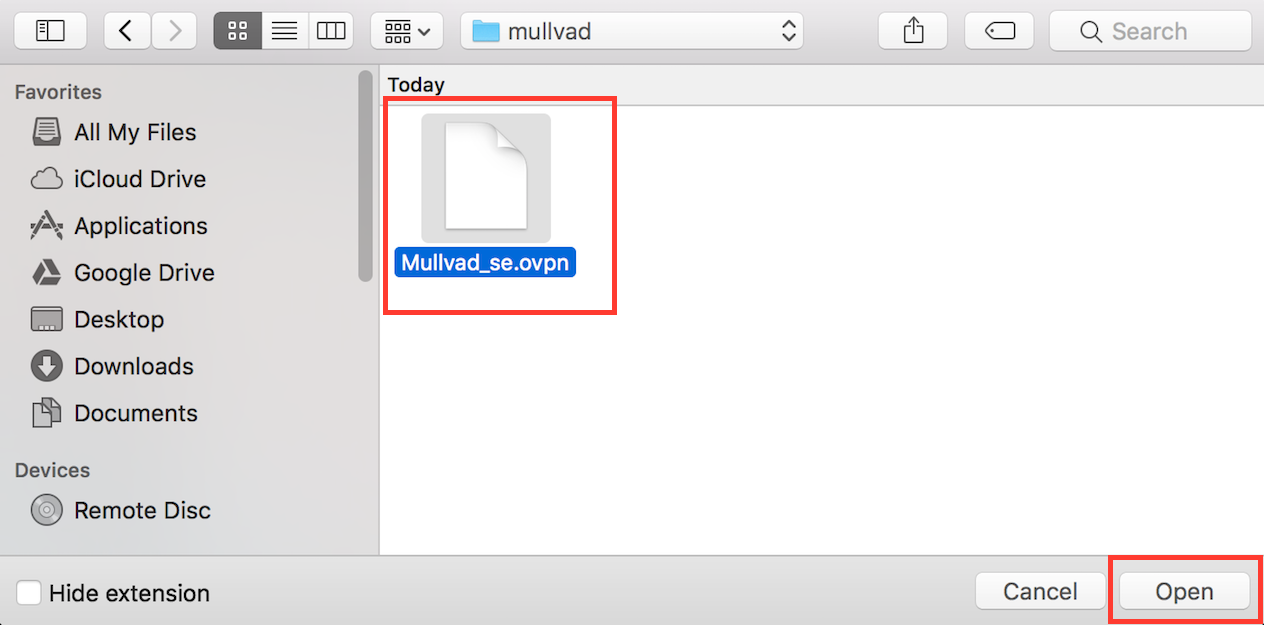 After selecting configuration file click on upload

You will now see the OpenVPN client settings, make sure that your settings match below.
Make sure Username/Password Authentication is set to Yes
and that you use your mullvad account number as username and m as password.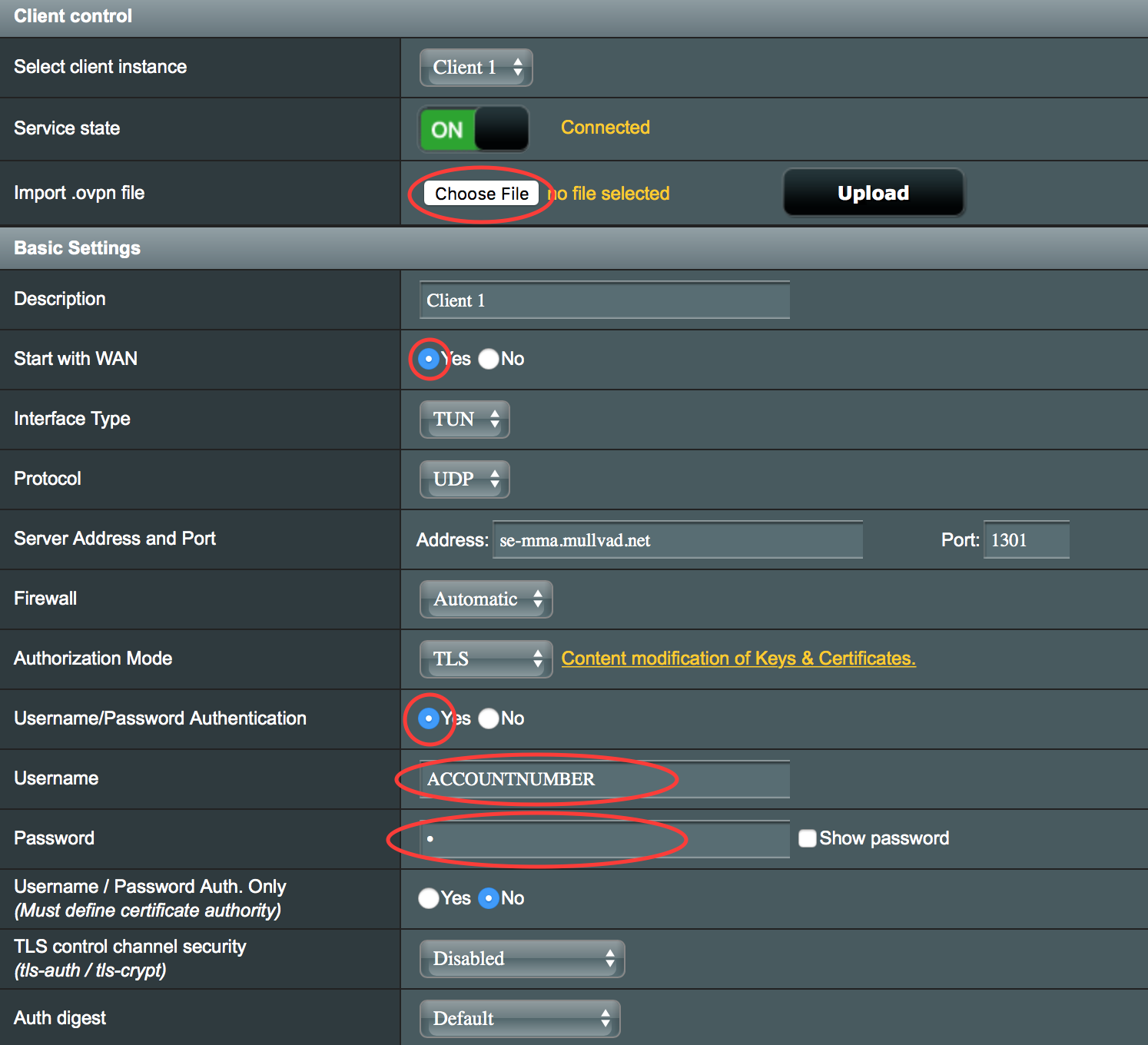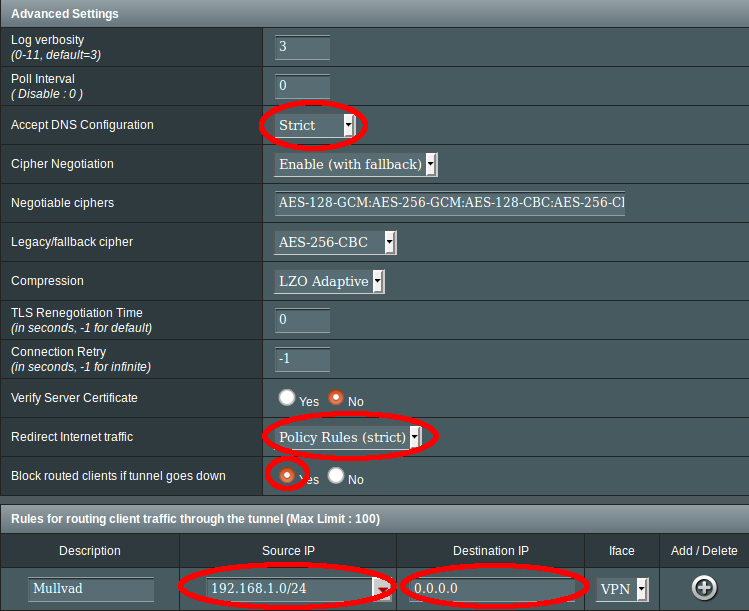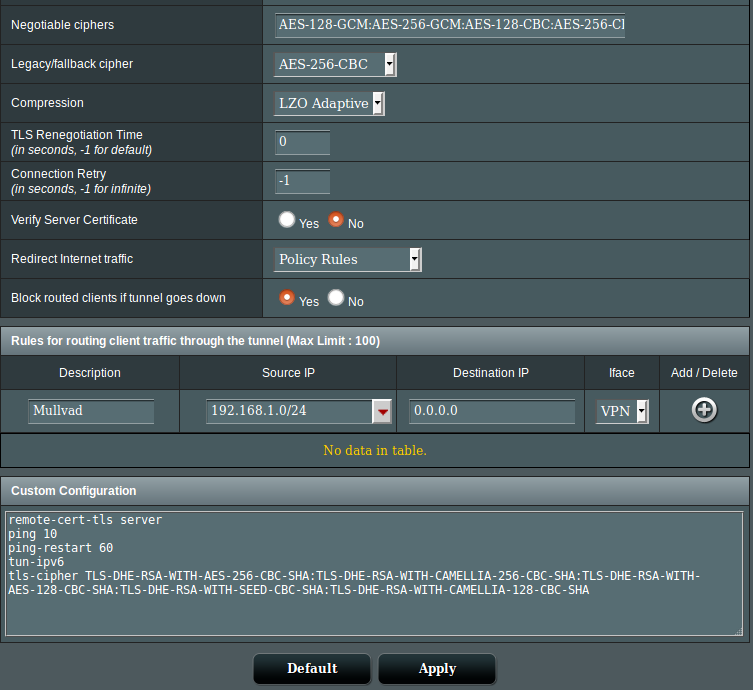 From the Advanced Settings click on IPV6 then In the Basic Config, Change the Connection type to Native.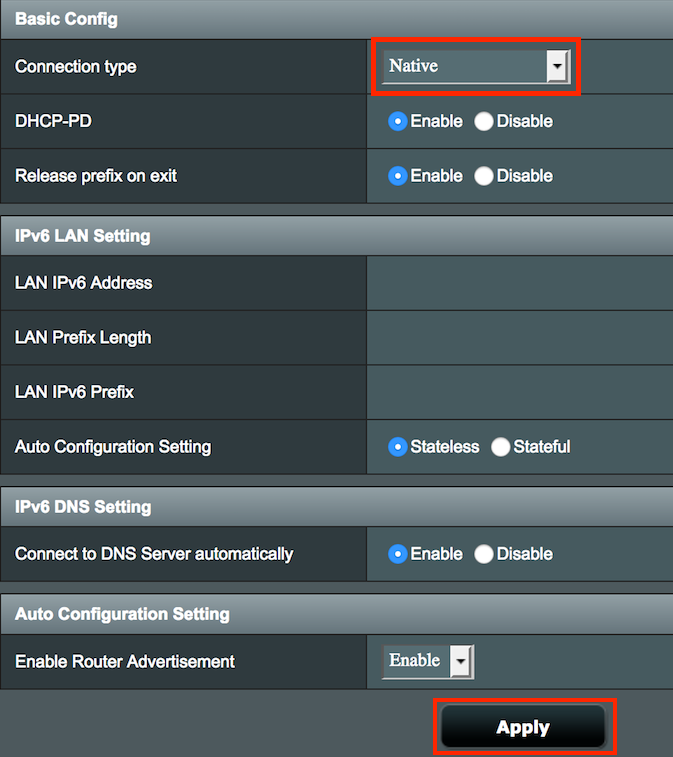 In client control turn on the button to connect to mullvad server

Click on VPN Status to see information about your VPN connection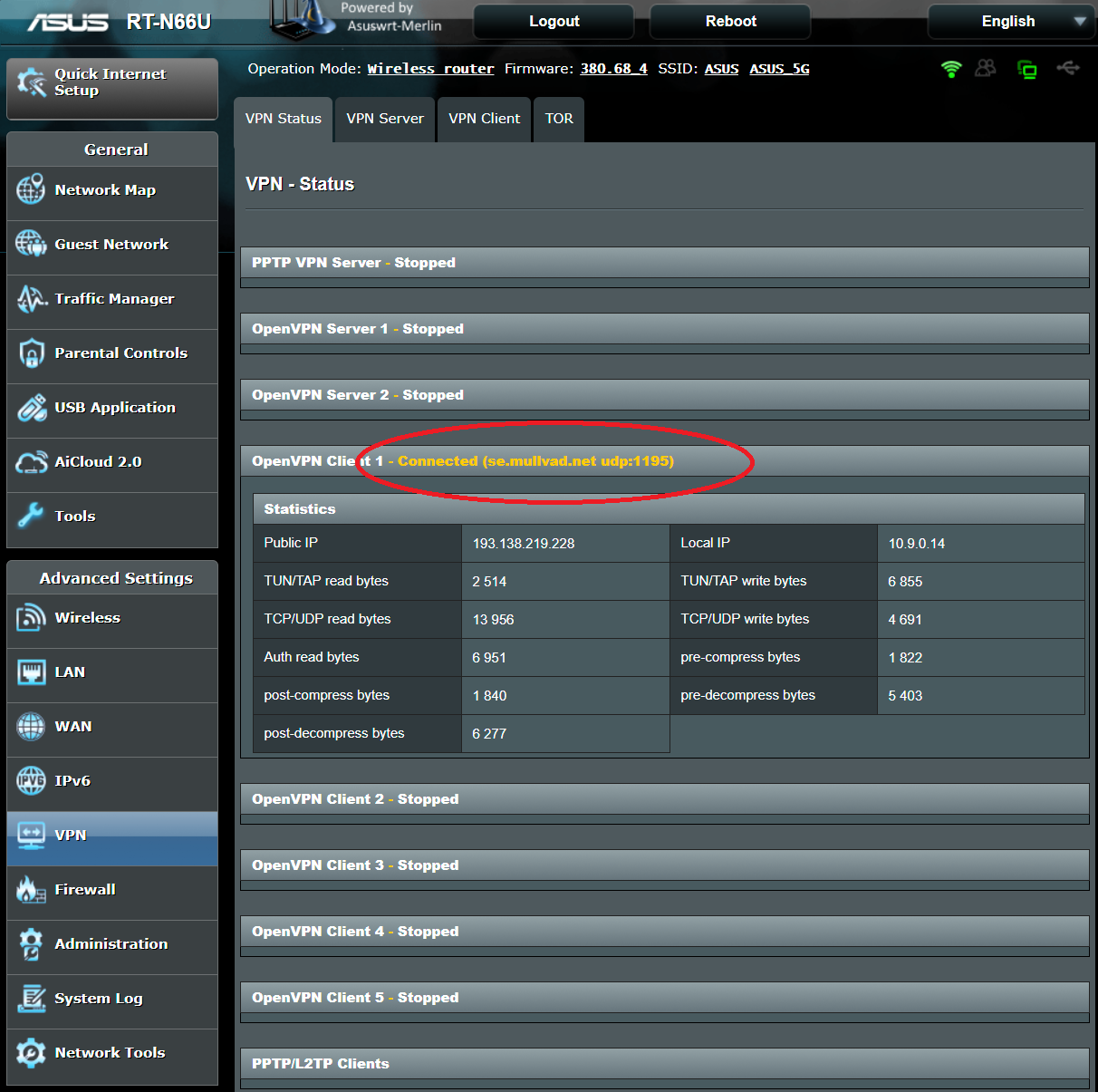 You should now be connected to Mullvad.
Port Forwarding:
Enable startup with WAN under the VPN settings.
Go to Administration -> System -> Enable JFFS custom scripts and configs
Enable SSH in the router on the same page.
SSH into the router.
Copy and paste this into the terminal (replace YOURPORT with the assigned port and replace THECOMPUTERSIP with the device IP that you wish to forward the port to).
echo -e "!#/bin/sh \niptables -t nat -A PREROUTING -i tun+ -p udp --dport YOURPORT -j DNAT --to- destination THECOMPUTERSIP \niptables -t nat -A PREROUTING -i tun+ -p tcp --dport YOURPORT -j DNAT --to-destination THECOMPUTERSIP" > /jffs/scripts/nat-start && chmod +x /jffs/scripts/nat-start
Troubleshooting:
If you are unable to import the configuration file, then please edit it and remove the inline crl.
Remove "<crl-verify>" and also everything inbetween and including "</crl-verify>"
If it still does not work, then please reboot the router and then see if it is working as intended