Today we release a new tool to help anyone along on their privacy journey. Try the free Mullvad Privacy Companion Beta extension for Firefox desktop.
Reclaiming your right to privacy on the web is hard. There's no single, magical pill that mitigates it all – not even a VPN (although it's a good start). The fight requires habit changes, tools that block and protect, and sometimes changes to the settings in your browser or device.
For a long time, we've been pointing you toward our privacy guides, but we've dreamed of making it easier and quicker for everyone to achieve greater privacy online. That's how the idea of the Mullvad Privacy Companion was born.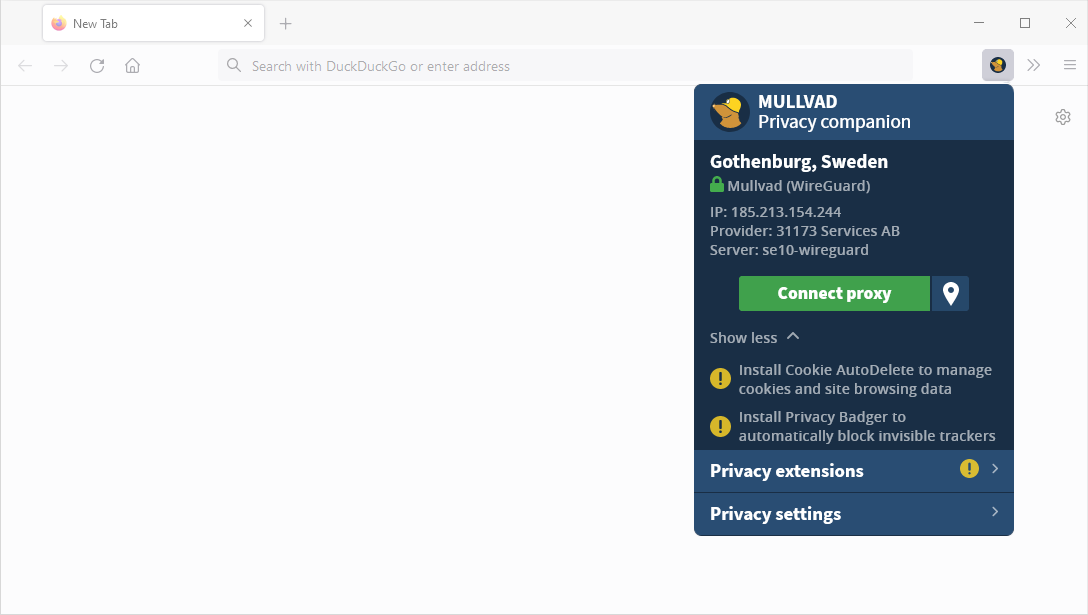 A companion to anyone's digital privacy
Now you can enhance your privacy and anonymity with a number of settings and tools, all conveniently located in one place. Our browser extension is free for anyone – including non-Mullvad VPN customers.
Here's a short features tour of the Mullvad Privacy Companion Beta.
Quick installation of privacy tools
A list of Mullvad-recommended Privacy extensions shows which ones you've already installed, plus the ones you're missing along with an "Install" button that takes you directly to the installation page.
Disable IP-exposing WebRTC
Under Privacy settings you'll find the option to disable WebRTC, a technology that can jeopardize your anonymity.
Route your browser traffic through a different server
With one click of the Connect proxy button (visible only when connected to Mullvad VPN), your browser traffic will exit a different location than the one you're connected to. Without the browser extension, using our SOCKS5 proxy requires a multi-step process to configure Firefox's network settings.
Don't see the button? Remember, it's only visible when connected to Mullvad VPN. You also need to right click on the extension icon, then choose Manage Extension. Next to Run in Private Windows, choose Allow.
Reduce those annoying CAPTCHAs
A nice bonus of using the above-mentioned proxy is that you won't experience as many of those annoying CAPTCHAs.
Get the free extension for Firefox
We invite you to install and try the first public beta version of the Mullvad Privacy Companion:
In Firefox, visit our Mullvad Privacy Companion installation page and click Install.
In the pop-up, click Continue to Installation.
When asked to "Add Mullvad Privacy Companion", click Add.
Tick the box next to "Allow this extension to run in Private Windows", then click Okay. This step is required to use the proxy.
You're all done!
And of course, we welcome your feedback! Email us at support@mullvad.net. What you see in the extension might seem limited, but we have a long wish list of items to add – a privacy journey of our own!
For your right to privacy,
Mullvad VPN