What's new in this version
WireGuard® becomes default in Linux and macOS
Linux and macOS now use WireGuard automatically in the app. This makes WireGuard the default protocol on four of the five platforms that Mullvad VPN is available for.
Option to join the beta program
Go to Settings and enable the Beta program option to get notified directly in the app when a new beta version is available.

Your feedback and problem reports help us to more quickly identify issues and bring us one step closer to the next stable release.
Create account and redeem voucher in the app
Need a new account number? You can now create one directly in the app. On the login screen, click Create account and a number will automatically be generated.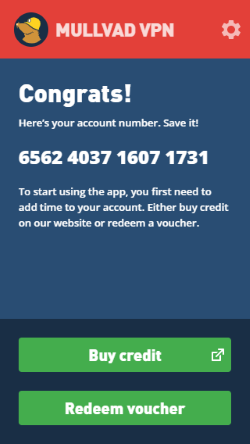 You can also redeem a voucher in the app. The Redeem voucher button is available once you've created a new account and when you run out of time.
Improved stability on Windows 7
Windows 7 users should experience better app performance and stability now that we have reverted back to an older TAP adapter driver.
Other additions
In the Advanced settings, we've added the option to set a WireGuard MTU value if you need to change your maximum packet size.
CLI users can now hit Tab to auto-complete commands.
Other changes and fixes
(Windows) If the app requires IPv6 but the user has disabled it on the network adapter, the app will attempt to enable it.
(Windows) Fixed a bug to improve offline detection.
(Windows) Fixed a bug to ensure that all of the app's log files are removed on uninstall and erases the install.log content on upgrade.
(Linux) We now only officially support Ubuntu 18.04 or newer and Fedora 30 or newer.
Fixed a bug that didn't show update notifications.
When Local network sharing is enabled, more local networks are more reachable.
(macOS) DNS over TCP should now work.
We now use rustls instead of OpenSSL for TLS encryption to the API and GeoIP location service.
Various other bug fixes.
Security
From this version onward, when upgrading or reinstalling the app while connected, the firewall now remains blocked during this process.
(Windows) Removed a bug that potentially caused traffic to leak if the system service unexpectedly crashed while Block when disconnected was enabled.
Download the app
Download the Mullvad VPN app for Windows, macOS, and Linux. We've got set-up guides if you need help with installation and usage.
Know of someone unable to access our website? Point them to Mullvad's onion address on Tor or Mullvad's GitHub page.