In the newest version of the Mullvad VPN desktop app (2020.6), Linux users can now route programs outside of the VPN tunnel with our split tunneling feature.
What's new
Split tunneling for Linux
The split tunneling feature (Settings → Advanced → Split tunneling) allows you to launch apps outside of the VPN tunnel while you are connected. This is particularly useful in situations where some apps and services require you to access them via your regular Internet connection. In essence, you are splitting your traffic and routing them down two separate paths.
In the Split tunneling menu, click on a program to launch it. The program's traffic will bypass the VPN tunnel until you close it.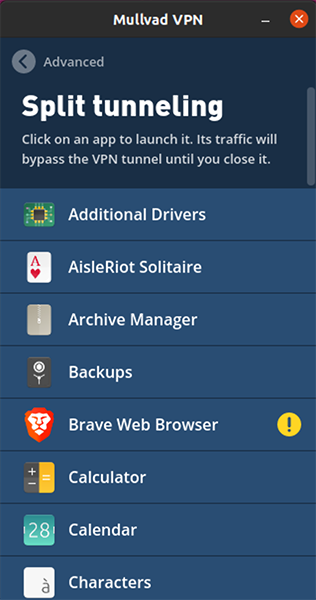 Quick actions in new Linux context menu
In Linux, we've added a context menu of quick actions for connecting and disconnecting. Simply click on the padlock icon in the menu bar to access it.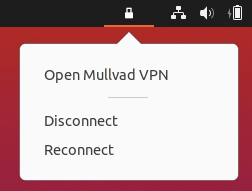 A few WireGuard improvements
If the app is connected during the WireGuard® key's weekly automatic rotation, it will reconnect instantly with the new key for you.
(Linux) We've added support for WireGuard via the Linux kernel module if it's loaded.
(Windows) We fixed an issue that prevented WireGuard from connecting if a user had IPv6 disabled.

Minor but mentionable
For CLI users, mullvad relay list and mullvad bridge list now include hosting provider information.
In order to prevent potential temporary traffic leaks during an app upgrade, the firewall is no longer reset after the upgrade has completed.
We improved error messages relating to firewall issues.
During the uninstall process, the app is now better at cleaning up after itself (just as mother would want).
We fixed a variety of bugs.

Download the app
Download the Mullvad VPN app. If needed, we've got help guides for installation and usage.
Know of someone unable to access our website? Point them to Mullvad's onion address on Tor or to Mullvad on GitHub.
--"WireGuard" is a registered trademark of Jason A. Donenfeld.