The latest version of the Mullvad VPN app has full WireGuard support on macOS and Linux! (Windows users will have to wait a little bit longer)
What's new in this version (2019.7)
Upgrade warning!
This is only relevant if you are running Mullvad VPN 2019.5 or older! For everyone using 2019.6 this is not revelant.
Before we move on to tell you about the awesome new features we need to tell you about an upgrade bug. If you are on Mullvad VPN 2019.5 or older and upgrade to this new 2019.7 version, your settings will be reset to the defaults. This is due to a bug in our settings migration code. To avoid this please:
First upgrade to 2019.6
Start 2019.6
Log out of your account (It should still be saved in your account history. But write it down to be extra sure you don't lose it)
Upgrade to 2019.7 and log back in in the app.
WireGuard
We added limited WireGuard support back in 2019.2. But using it was not meant for mainstream. Activating it required using the command line, and it had a number of bugs. We have worked on improving it ever since, and today we are proud to announce it becomes a mainline feature on macOS and Linux! WireGuard for Windows is slightly behind and is not included in this release, but it will arrive in a later release!
WireGuard is not used by default, you still have to activate it manually if you want to use it. To do so, go to the advanced settings and select WireGuard under Tunnel protocol. That's it!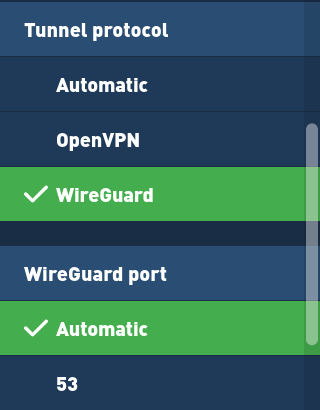 Upgraded OpenVPN and OpenSSL
A change that will not be directly noticeable for users, but that is good nontheless is the upgrade of OpenVPN and OpenSSL. This new version of the app now uses the latest release of both:
OpenVPN 2.4.7
OpenSSL 1.1.1c
The more technical stuff
(Windows) The VPN service on Windows will now be restarted when it crashes.
(Linux) Improve resolv.conf based DNS management to detect changes to file.
Add `factory-reset` CLI command for removing settings, logs and clearing the cache.
Add more details to the error messages shown during some issues on certain platforms.
Download the app
Download the Mullvad VPN app for Windows, macOS, and Linux users. We've got set-up guides if you need help with installation and usage.
Know of someone unable to access our website? Point them to Mullvad's onion address on Tor or Mullvad's GitHub page.