We've got quite a laundry list of changes to the newest stable release of the Mullvad VPN app. Most exciting is our in-app integration of the Shadowsocks proxy!
What's new in this version (2019.5)
Use Shadowsocks in the app
Connecting with bridges using the Shadowsocks proxy can now be done directly in the app and is even fully automatic. You can find the Bridge mode options under Advanced settings (scroll down).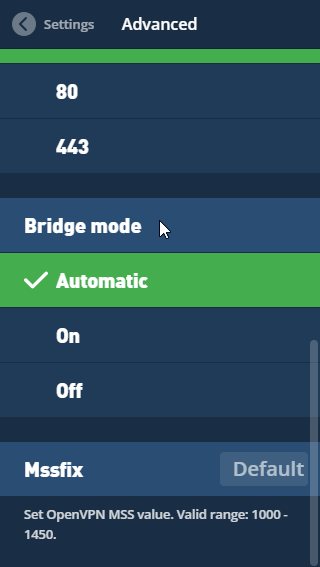 The default mode is set to Automatic which means that if the app fails to connect three times (often a sign that you're stuck behind a censorship firewall), it will then attempt a bridge connection.
Once connected, you'll be able to see the bridge details on the connection screen.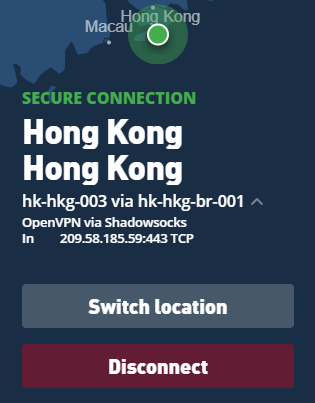 New languages
The app now supports Dutch, Italian, Japanese, Norwegian, Portuguese, Russian, and Turkish. The language will be automatically determined based on your computer's language settings.
In addition, the city and country displayed on the connection screen are now displayed in that particular language instead of defaulting to English.
WireGuard improvement
When using WireGuard, you can now roam between different WiFi's and other connections.
Better troubleshooting
Problem reports sent via the terminal now automatically include the app's front end log files to help troubleshoot app crashes.
iPhones included in local network sharing
For macOS users with iPhones connected to the same network, those iPhones are now discoverable when the Local network sharing option is enabled.
Fixes
(macOS) Thanks to user input, we've made a few adjustments to prevent the macOS system service from crashing.
(Windows) The app now better detects when Windows users are offline and therefore waits to connect.
(Linux) Resolved a few bugs resulting in fewer DNS errors and more stable connectivity.
The more technical stuff
Allow incoming DHCPv4 requests and outgoing responses if allow local network is enabled.
Allow a subset of NDP (Router solicitation, router advertisement and redirects) in the firewall.
(Linux) Add standard window decorations to the application window.
Relax the allow local network rules slightly, only checking either source or destination IP field instead of both. They are still unroutable.
CLI commands that are just intermediate commands, and require another level of subcommands, will automatically print the available subcommands, instead of an error if none is given.
Remove the `help` subcommand in the CLI. Instead get help with the `--help` long flag.
Download the app
Download now the Mullvad VPN app for Windows, macOS, and Linux users. We've got set-up guides if you need help with installation and usage.
Know of someone unable to access our website? Point them to Mullvad's onion address on Tor or Mullvad's GitHub page.