That's right, Windows users, the wait is over. Our newly rebuilt VPN app, in beta, is finally available to you for testing!
Head over to the Windows beta page where you'll find a download link and important information.
Although the new app is an improvement over its predecessor, it is still in beta and does not yet offer all of the same features, such as the ability to select a specific server. Read more below about beta releases.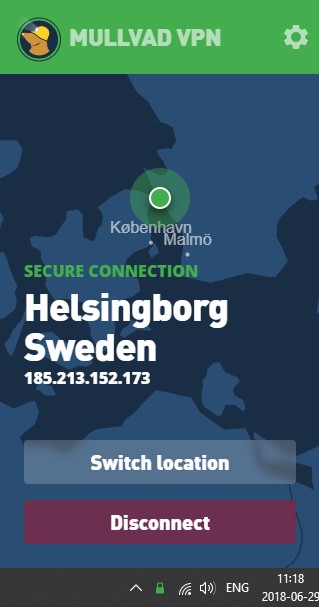 About the new app
Protecting one's online privacy should be easy for anyone. To that end, we have intentionally designed our new VPN app with an intuitive user experience at its core.
The new Mullvad VPN app focuses on showing whether your connection is secure or not, and where the Internet thinks you are located.
A padlock in the menu bar is a helpful, constant reminder of your status – green means you're connected, red signals that you're not.
If you want to change your location, simply choose from the menu and the app will reconnect automatically. A map clearly indicates where in the world you are connected to one of Mullvad's servers.
Your internet traffic is encrypted from your computer to our servers. Using Mullvad also hides your IP address and replaces it with one of ours, giving you increased privacy.

What is a beta release?
A beta release is usually the final test version of a piece of software before the next official version is released. This means that bugs may still exist even though the software has been tested internally.
But that's exactly why beta releases occur, so that external users like yourself can test the software and give us valuable feedback. If you'd rather wait for the official release, though, that's ok too.

macOS update
This release also means a new beta version for macOS users. Head on over to the macOS beta page to get in on the fun!