Did you know that the Mullvad VPN app is automatically equipped to use Shadowsocks and multihopping? It's true! We'll tell you how to speed up your connection time.
Set Bridge mode to On
In the latest Mullvad VPN app, look for Bridge mode under Advanced settings. To multihop or connect with Shadowsocks more quickly, select On. Yes, it's that simple!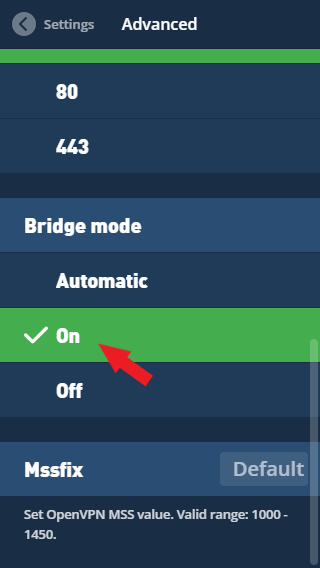 With the default Automatic setting, the app will first try three times to connect normally before attempting a bridge connection. Selecting On will skip over that part and immediately prioritize a bridge connection.
When using a bridge connection, your traffic will first travel through a Mullvad bridge server using the Shadowsocks proxy and then hop to a second server – multihopping! – before exiting.
Why you might use Bridge mode
Bridge mode is worth trying if you're
in a restrictive country such as Turkey
behind a corporate firewall
affected by peering issues and want to try improving your speed (for example, users in Germany affected by peering to Cogent)
wanting to add an extra layer of privacy, since your traffic will travel through two of our servers instead of one.
The app will automatically choose the bridge server that is geographically closest to your chosen location. For example, if you connect to Manchester in the UK, the nearest bridge server that we currently have is also in the UK, in London.
In most situations, you will experience slower speeds when using bridge mode.