Who's tracking my political beliefs? Find out in under 5 minutes
While we encourage anti-tracking and more privacy, sometimes all you want to know is, "Who is actually tracking me?" You can easily find out.
Install Privacy Badger for your browser (we recommend Firefox), developed by the Electronic Frontier Foundation.
Browse the web as usual.
Click on the Privacy Badger icon to see the trackers it manages to block. (Don't see the icon? Read below.)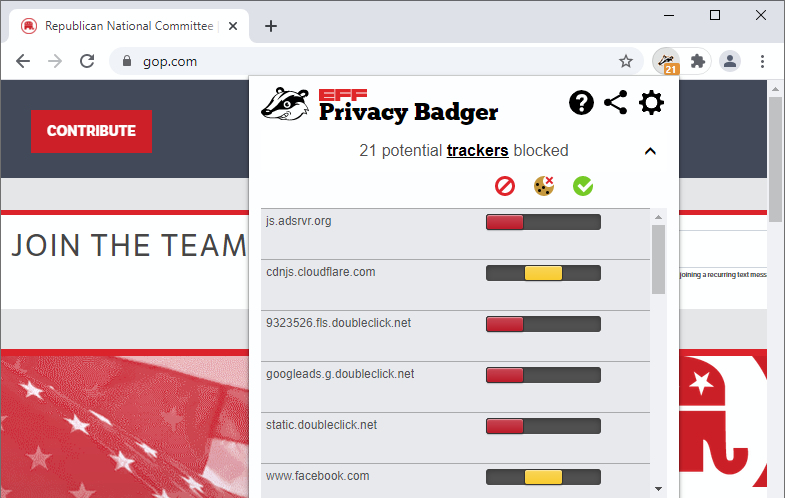 For some extra fun, visit a website that asks you to "Accept all cookies." Before accepting, look at the number of blocked trackers. Then click ok and watch the number tick upward.
Don't see the icon in your browser? Some browsers hide extensions after installation. To reveal it in Chrome, click the Extensions icon (looks like a puzzle piece) which is located to the right of the address bar. In the pop-up menu, find Privacy Badger and click the pushpin icon next to it.
Political flavor is just the tip of the iceberg
Today's powerful AI tools can use this data to build an accurate picture of you, such as your sex, race, ethnic or social origin, religion or belief, disability, or political opinion.
Yet Article 2 of the Universal Declaration of Human Rights states that everyone shall be free from such distinction. Even the EU Charter of Fundamental Rights prohibits such discrimination.
Ever wondered why this data is collected and if you're being served the same information and products as everyone else?
Fighting for your right to privacy requires tackling it from multiple angles. View our list of other plugins that block and protect, and stay tuned for our Mullvad browser extension aimed at guiding you more easily on your privacy journey.