Install and use Mullvad app on Windows
What this guide covers
Installation requirements
You need Windows 7 or later.
Download and install
1. Start by downloading the latest version of the app.
2. Double-click the downloaded file and follow the prompts to install the app.
3. If you receive a warning window, like the one below, click on More info.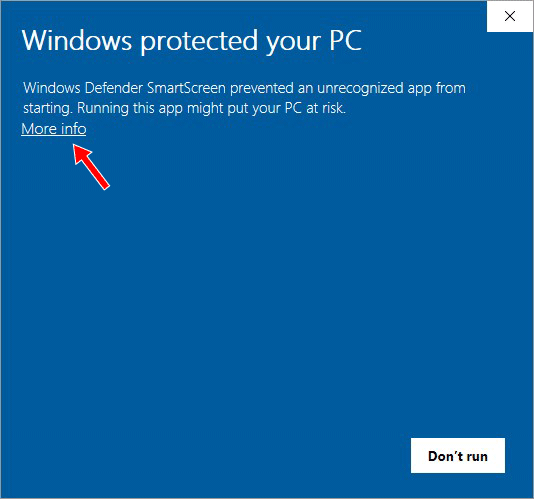 4. Then click on the Run anyway button that appears to allow the installation to continue.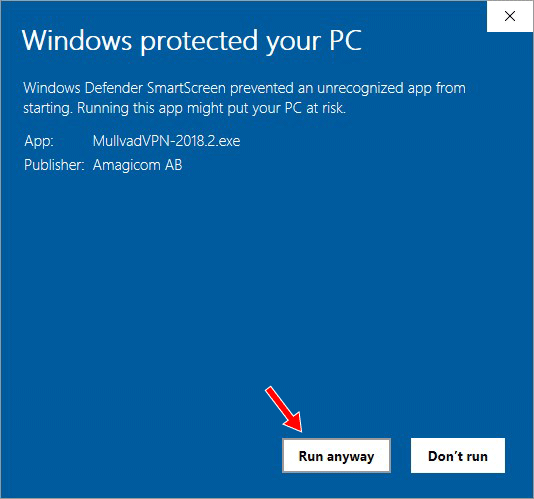 5. Once the installation is complete, you can launch the app directly.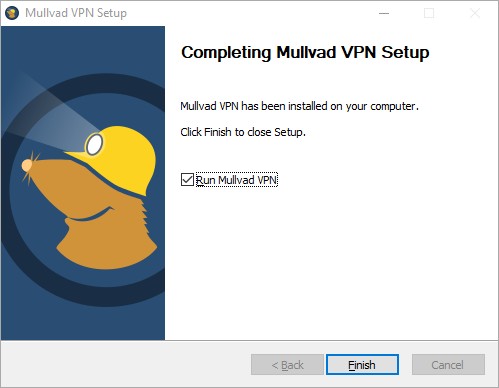 Log in
After the app launches, enter your Mullvad account number and hit Enter or click the green login button.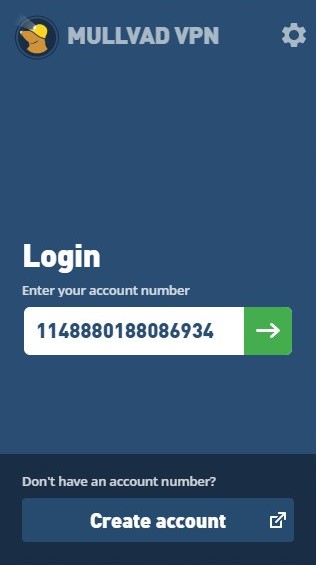 If you don't yet have an account number, simply click the Create account button which will navigate you to our website's account creation page.
The app remembers your account number
We strongly encourage you to write down your account number for safe keeping. However, the app will locally save the last three account numbers that you've used, making it easy to log in without having to remember the number each time.
Whenever you're logged out, just click in the login field and a drop-down list will appear.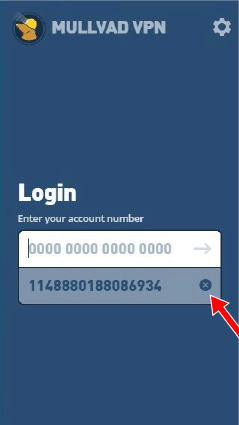 If you ever want to remove an account number from this list, just click on the X-icon to the right of the number.

Connect
Once you've logged in with a valid account number, the app will automatically attempt to make a secure connection and simultaneously block your internet. You can see the status of your connection on the app's connection screen.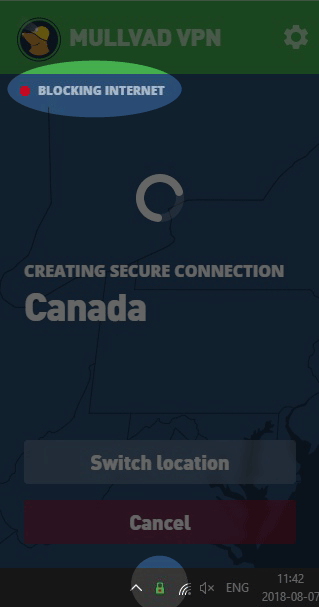 By default, the app will initially connect to a server in Sweden to increase the likelihood of a fast and stable connection. If you choose a different location, the app will remember your latest selection for the next time you start the app.
Know when you're connected
Once connected, the Mullvad app will visually signal this in a few ways:
The padlock in the taskbar will turn green.
"Secure connection" will be displayed on the connection screen.
The location and name of the server you have connected to will be listed.
A green GPS dot will mark on the map where you're connected.
Is your browser leaking?
Check your connection status to see if your browser is leaking information and therefore jeopardizing your privacy. Use our Am I Mullvad online tool to get a quick overview of your connection statusThis can occur even while connected to Mullvad.
Switch location
To choose a different server, click on the Switch location button.
On the Select location screen, scroll and click on the country that you prefer and the app will reconnect automatically.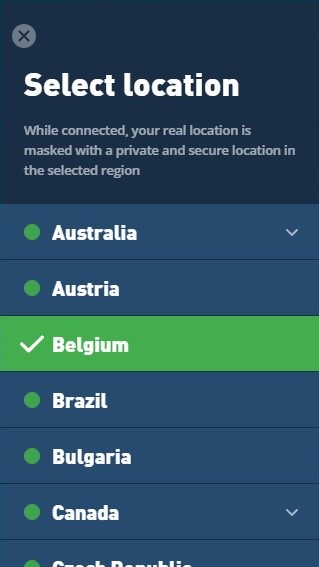 Some countries have a drop-down icon to the right. Clicking on this will reveal a list of cities or regions that you can specifically choose and connect to.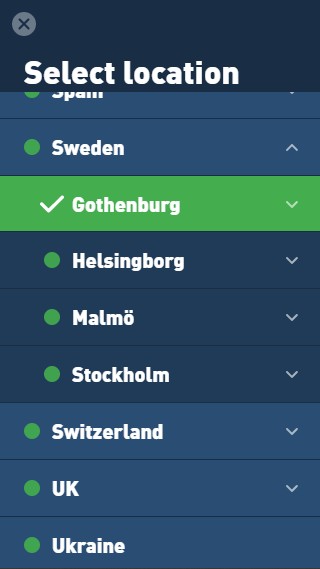 If the city or region also has a drop-down icon next to it, clicking on it will give you a list of specific servers.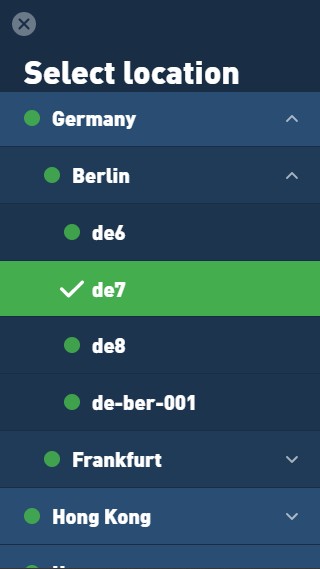 Sometimes, you won't be able to select a location because its servers are currently unavailable. Such a location will have a red dot beside it and the name will be greyed out.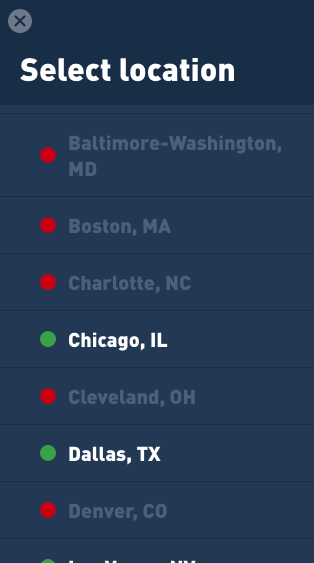 You can always check our website's server list to learn more about the situation.

Disconnect
If you want to disconnect, just click on the Disconnect button on the connection screen.
Know when you're disconnected
When you're disconnected, the Mullvad app will visually signal this in a few ways:
The padlock in the menu bar will be red.
"Unsecured connection" will be displayed in red on the connection screen.
The real location of your internet connection will be listed.
A red GPS dot will mark your real internet location on the map.
The top bar of the app will be red.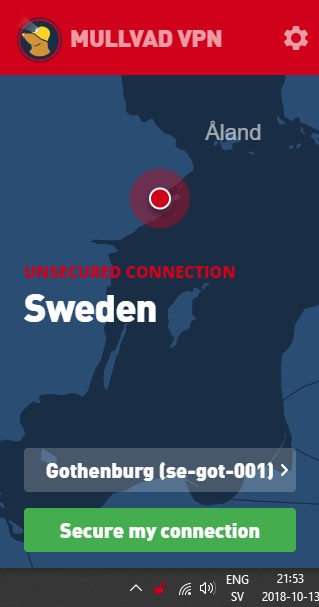 Temporarily blocked internet – kill switch on
Sometimes, while the Mullvad app is connected, you may notice that your internet has suddenly stopped working. Check to see if the padlock in the menu bar has turned green with a red dot. If so, the connection screen in the app will also display "blocking internet".
This is the app's built-in kill switch at work, automatically blocking the internet upon VPN connection failure to ensure that your traffic is not accidentally leaked outside of our secure tunnel.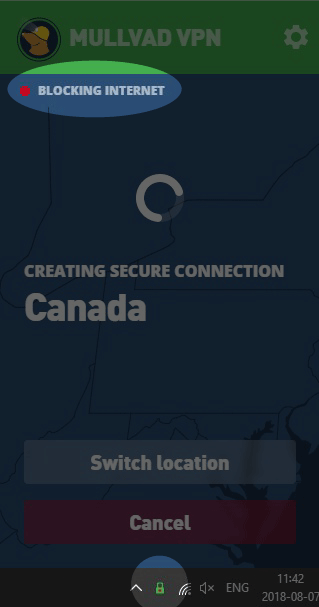 You will experience this in a few situations:
if the app accidentally disconnects on its own
if you run out of time on your account while connected
while the app is establishing a connection when you start the app.
The app will continue to block your internet traffic until a secure connection is made or reestablished, or until you manually disconnect from the app.
If you're worried about those times when you forget to start the app – leaving you unsecure – consider configuring your browser with our SOCKS5 proxy which will serve as your back-up protection.

Report a problem
If you're having issues, you can easily notify us with our in-app support form.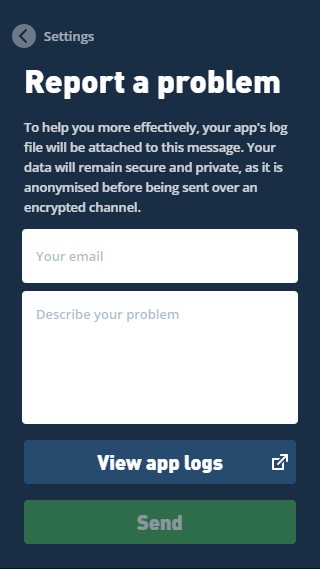 From the connection screen, click on the settings icon in the top right, then Report a problem.
As the form states, your app's log files are anonymized before being securely sent to us.
Filling in an email address and description of the problem are both optional. If you want a reply from us, you will need to include an email address.

Settings menu
The Settings menu can be accessed by clicking on the settings icon in the connection screen.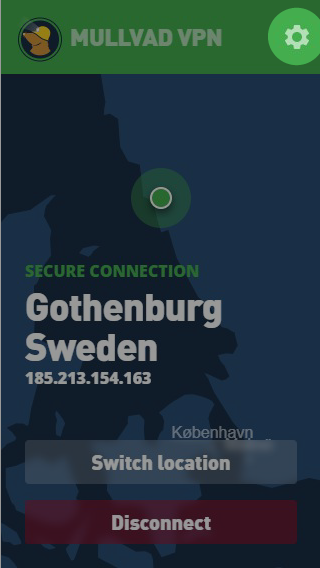 From here, you have access to a variety of information.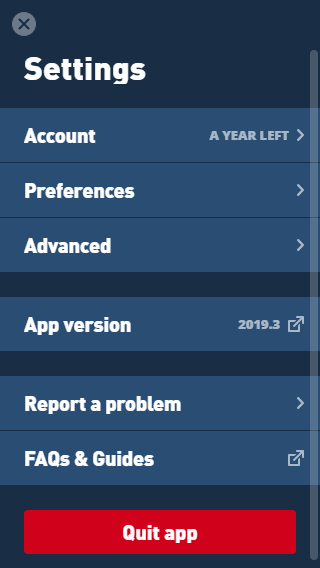 Account
Here you can view information pertaining to your account, including your account number, when your paid time runs out, and a link to our website to buy more time.
Starting three days before your account credit expires, you will see a notification in the connection screen.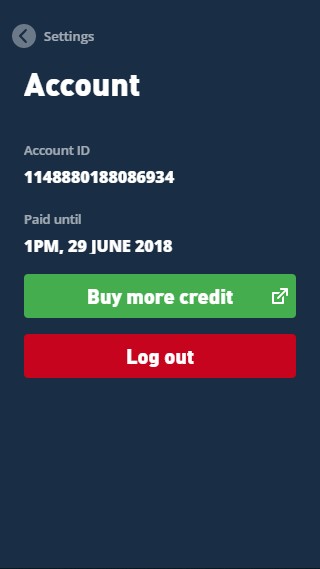 Preferences
See the Preferences section in this guide.
Advanced
See the Advanced section in this guide.
App version
This tells you which version of the app you are currently running. Click on this and you'll be taken to our website to download the latest version (which we always recommend that you have!). If you don't have the latest one, you will see a warning message.
FAQs & Guides
This link will take you to the FAQs page of our website.
Report a problem
See the Report a problem section in this guide.
Quit app
Clicking on the red Quit button shuts down the app. Doing so will disconnect you from any connection you had with the app, leaving your internet traffic exposed and unsecure.

Preferences
This is where you can enable
Launch app on start-up
Auto-connect
Local network sharing in order to access other devices on the same network, such as for printing and sharing.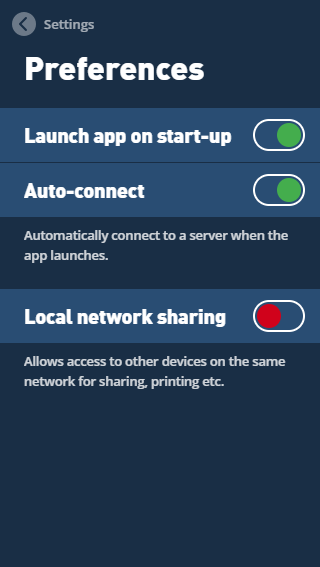 Advanced settings
This is where you can
enable IPv6 communication
enable Block when disconnected which activates an extra kill switch that blocks all network traffic outside the tunnel, even when you yourself have disconnected from the app.
adjust settings for Network protocols, UDP ports, and TCP ports
set a value for OpenVPN MSS.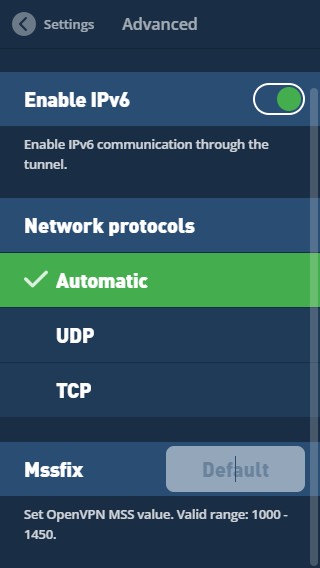 For network protocols, UDP is the automatic default because it is generally faster than TCP. However, on some restricted networks, such as the WiFi on certain trains, sometimes only TCP works.

Uninstall the app
To uninstall Mullvad from your computer, you'll need to access the Windows settings.
Click on the Windows Start button, then in the search field type "programs" and click on Add or remove programs in the results.
In the list of programs that appears, find Mullvad VPN and single-click on it to select it.
Click on the Uninstall button and confirm that you want to uninstall the app.
How do I turn on DNS leak protection?
DNS leak protection is always on. There is no option to disable it.

How do I tunnel IPv6 traffic?
You can enable IPv6 communication in the Advanced settings menu.

Where can I find my app's local log files?
In Windows, open C:\ProgramData\Mullvad VPN to find openvpn.log, openvpn.old.log, daemon.log, and daemon.old.log.