Beta versions for macOS
While beta software gives you the opportunity to try our new VPN app before the official version is released, it's important to understand that it is not a final product.
Beta versions have been tested internally, but bugs may still exist. Of course, that's where your valuable feedback comes in! If you encounter a problem, please let us know.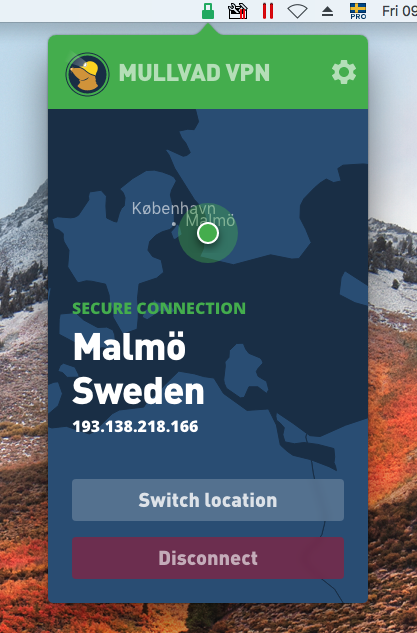 Download
Warning: Installing this beta version will automatically uninstall other versions of this app, including stable, non-beta versions. If you are connected to another version during this installation, you will be automatically disconnected, leaving your internet traffic exposed until you connect with this newly-installed version.
You'll need macOS X Mavericks (10.9) or later.
Changes in 2018.2-beta2:
Added startup preferences.
Added "Auto-connect" to configure the system service to secure your internet directly on computer start.
Added "Auto-start" to launch the Mullvad VPN user interface when you log into your user account.
The list of VPN servers is now automatically updated more frequently.
Text and email entered in the problem report form is not lost if you have to leave the form for example by wanting to change servers, or going into other menu options.
For those unable to access our website, our GitHub page also hosts the app's .pkg download file.
Check this page often, where we'll release new versions for download. Alternatively, follow us on Twitter or subscribe to our blog's RSS feed or Atom feed for updates.

Important app features
The kill switch is always on. In other words, if the app accidentally disconnects, your internet traffic will be blocked until a secure connection is reestablished or you manually disconnect from the app.
DNS leak protection is always on. There is no option to disable it.
If you run out of time on your account while connected, your internet traffic will be blocked until you manually disconnect from the app or add more time.

Known issues
Airdrop, Handoff, and Chromecast will not work with the app.
It is still not yet possible to select specific servers from the list of locations.

Updates
These are the issues we've fixed and features we've added:
The account expiration time is now always up to date.
In-app error messages have been improved to more specifically reflect the problem.
The app will no longer appear to freeze if experiencing connection problems.
When sending a problem report, the app's two most recent log files are now sent as opposed to only the latest one. This assists our support team in more easily helping the customer as many problems are logged in the next-to-last file.
We've improved the usability of the app for those who've experienced DNS-related issues.
The download file type has changed from DMG to PKG.
You no longer need to enter your computer's login credentials each time you start the app.
Technical details can be found in our changelog on GitHub.

We'd love your feedback
If you encounter any issues, please let us know! We welcome your feedback in any form: